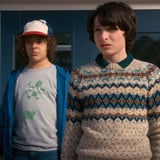 Consider your Halloween party lucky, because the Stranger Things season two soundtrack is dropping just in time to creep out all of your guests. Like the show's highly anticipated new episodes, the album won't hit iTunes until the end of October (on Oct. 20, to be exact, seven days before the season two premiere). We just got our first preview of what the 34-track compilation will include, and it's just as eerie as you'd expect:
The Song, titled "Walkin' in Hawkins," is the first song on the soundtrack and has the same kind of atmospheric synth feel that the Stranger Things theme song does. If you're interested in speculating at what the rest of the song names on the soundtrack might mean, have at it:
1. "Walkin' in Hawkins"
2. "Home"
3. "Eulogy"
4. "On the Bus"
5. "Presumptuous"
6. "Eight Fifteen"
7. "The First Lie"
8. "Scars"
9. "I Can Save Them"
10. "Descent Into the Rift"
11. "Chicago"
12. "Looking for a Way Out"
13. "Birth / Rescue"
14. "In the Woods"
15. "Digging"
16. "Symptoms"
17. "Eggo in the Snow"
18. "Soldiers"
19. "Choices"
20. "Never Tell"
21. "She Wants Me to Find Her"
22. "Shouldn't Have Lied"
23. "It's a Trap"
24. "Crib"
25. "The Return"
26. "Escape"
27. "We Go Out Tonight"
28. "Connect the Dots"
29. "The Hub"
30. "On Edge"
31. "What Else Did You See?"
32. "Run"
33. "Levitation"
34. "To Be Continued"