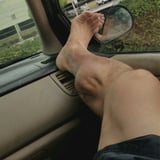 Everyone who has ever had that toe-curling pain after a workout or been disturbed in the middle of the night by those cringe-inducing spasms knows just how uncomfortable Muscle cramps can be. However, few have ever felt - or seen - anything quite like this.
Angel Bermudez recently posted a video on Facebook that captured what happened to his leg after a session at the gym. "Start to relax and then this happens," he captioned the shudder-worthy video. "F*cken cramp. Look at this sh*t. Painful yes it was."
In the clip, Angel's muscle is contracting during an Extreme spasm, and although many are disturbed by the visual, they can't help but share. "Looked like a godd*mn alien in my damn leg was gonna bust out," Angel added.
One user noted that it looked like his leg was having a baby, and we just can't look away.