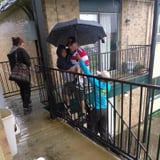 It's people like Alan Little that are the definition of humanity. Even when all was lost he headed out solo to help out...

Posted by Jevauhnte Barnaba on Tuesday, August 29, 2017
People everywhere are finding different ways to help Hurricane Harvey Victims - like beer company Anheuser-Busch, which announced it's using its breweries to can water. And, of course, there are the real Texan heroes who are saving people from their flooded homes or cars. Two of those heroes include Jevauhnte Barnaba and Alan Little, who spent Aug. 28 rescuing people around the Baytown, Channelview, Highlands, and Crosby areas in Texas. In a Facebook post, Barnaba called out Little for being "the definition of humanity" for doing everything he could to help.
In Barnaba's Aug. 29 post, he explains how he saw a Facebook post from Little, who was offering his services to help out. Barnaba asked to join him in his efforts, and together they helped rescue more than a dozen people. According to Barnaba, Little is part of the US Marine Corps, so "serving his people is nothing new for him." Barnaba ends his post by writing, "I am very proud to say I have had the pleaser [sic] of making not a friend but a brother." You can read the whole Facebook post above.
Barnaba and Little are just two examples of people across Texas (and the country) who are doing everything they can to help one anotheer out. As Texas continues to reel from the flooding and damage left in Hurricane Harvey's aftermath, Barnaba and Little are two people who everyone can learn from.