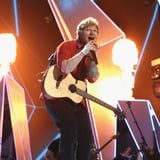 @teddysphotos Thanks for singing to Cooper tonight! 💙➗
Ed Sheeran is one of the most popular musicians in the world, but his biggest fan might actually be the tiniest human. During his concert in Miami, FL, on Wednesday, the "Supermarket Flowers" singer spoke to a couple in the audience who brought their baby daughter with them to enjoy the show. Rocky and Harmony Smith told Ed from the crowd that their daughter is named Cooper Sheeran Smith in honor of him.
Ed was adorably surprised, saying, "Her middle name is Sheeran? I've never seen a baby this calm at a concert. Just chilling there for the whole thing and you guys have been loud, you're singing and she's just kinda like [shrugs]. I love babies!" Ed then dedicated his song "Drive" to Cooper, asking the audience to sing along. "I want you to be as loud as you can," he said. "'Cause she's gonna be chill." Watch the video above to see Cooper's reaction at watching Ed on stage (hint: it's so cute).