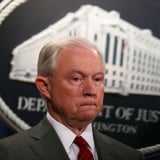 Sanctuary cities have made it abundantly clear to President Donald Trump that they will not give up any of their protections for immigrants. Chicago Mayor Rahm Emanuel is the latest government official to take a stand against the administration by suing the Department of Justice for tying a federal grant to the city's immigration policy.
The lawsuit, filed on Aug. 7, is in response to a new requirement the Department of Justice issued on July 25. Attorney General Jeff Sessions stated that states and cities will only receive the Edward Byrne Memorial Justice Assistance Grant (JAG) if they "comply with federal law, allow federal immigration access to detention facilities, and provide 48 hours notice before they release an illegal alien wanted by federal authorities." Emanuel, Chicago Corporation Counsel Ed Siskel, and the Chicago Police Department Superintendent Eddie Johnson are suing because they believe the new requirement violates the Fourth Amendment and undermines "public safety efforts."
"Chicago will not be blackmailed into changing our values, and we are and will remain a welcoming City. The federal government should be working with cities to provide necessary resources to improve public safety, not concocting new schemes to reduce our crime fighting resources. The City of Chicago will continue to stand up to President Trump and his Justice Department to ensure that their misguided policies do not threaten the safety of our residents," Emanuel said in a press release.
Siskel echoed this sentiment in a press release as well. "We are filing this suit because the Attorney General does not have the authority to add these requirements to a grant program created by Congress and cannot commandeer local law enforcement to carry out federal immigration law functions. We are asking the court to ensure that we are not forced to either forego critical grant funds or agree to new conditions, which violate the Constitution and our Welcoming City ordinance," he said.
Chicago has been awarded the JAG grant in the past, with the city receiving $2.3 million in 2016. The city used the money for "purposes that benefit public safety," such as buying SWAT products, police vehicles, radios, and tasers.
It's unclear if a court decision will be made before the JAG grants are due on Sept. 5.