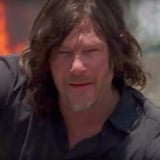 The Walking Dead's season eight trailer is clearly divided into three parts: the somber, intense first half, in which we're reunited with all the characters; the action-packed second act; and the head-scratching cliffhanger that shows Old Rick in a hospital bed. Let's talk about that middle section for a minute.
While some fans are hating on the upbeat Song choice, I think it's a perfect fit to accompany Maggie's call to arms, Daryl's explosions galore, and Carol's return to violence. The track is called "Prisoner's Song" by Dropkick Murphys.
It's off the group's 2013 album, Signed and Sealed in Blood, and the lyrics are pitch-perfect for the storyline on The Walking Dead: "Looking on a past where we still had a chance / We were pawns in a game that we could not win / Now we're alone just a pick an' stone / We're dreaming of a future where our ship comes in / Dreaming of a future where our ship comes in."
Fun fact: Dropkick Murphys happen to have a 2005 song titled "The Walking Dead"!