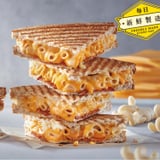 Between the sweet taro pies in China and the macarons in Paris, there's undoubtedly no shortage of fabulous international McDonald's meals, but the latest menu item from McDonald's Hong Kong is so cheesy, we're left wondering why on earth it doesn't exist in the United States. McCafé just added two oozing, carb-filled sandwiches to its Toasties menu in Hong Kong, and yes, we're jealous.
The Bacon Macaroni and Cheese Toastie is made of a two-cheese mac and cheese, topped with bacon, and pressed between two slices of bread. The Corn and Cheesy Champignon Toastie, which may look a little less American but equally delicious, is made with mushrooms, sweet corn, and melted white cheese, pressed in the sandwich. Cheese corn is a popular Korean side dish, which is incorporated in the second Toastie.
It looks like we have two more items to add to our list of incredible international McDonald's menu items!
New Toastie Flavours promo - McCafe Range at McD's Hong Kong... pic.twitter.com/XaOMF7puMX

- Burger Lad® (@Burger_Lad) June 14, 2017