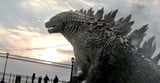 It's been three years since Bryan Cranston disappeared early on in the 2014 Godzilla movie, but soon we'll be getting revenge against the Toho monster in the star-studded sequel. It was just announced that the next Godzilla movie has begun filming and has an awesome new cast, including actors like Kyle Chandler, Stranger Things's Millie Bobby Brown, and more.
The official synopsis reads, "The new story follows the heroic efforts of the crypto-zoological agency Monarch as its members face off against a battery of god-sized monsters, including the mighty Godzilla, who collides with Mothra, Rodan, and his ultimate nemesis, the three-headed King Ghidorah. When these ancient super-species - thought to be mere myths - rise again, they all vie for supremacy, leaving humanity's very existence hanging in the balance."
Read on to see the star-packed cast of the upcoming sequel.