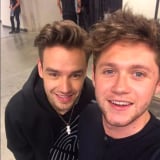 Liam&Niall😱❤️ pic.twitter.com/qQjR40O0Lw

- Wakana. (@1D_Nialln) June 24, 2017
As fate would have it, Liam Payne and Niall Horan had a One Direction Reunion when the former bandmates ran into each other at a concert in Indiana. "I'm here at the ZPL Birthday Bash and look who I found," Niall says before revealing Liam standing behind him. Liam, who looks just as excited to see Niall, also recorded their mini reunion on his cell phone.
Naturally, 1D fans lost their sh*t over seeing the guys together again. It also reignited our hope for a full reunion with all of the original members. Until then, this adorable moment is more than enough to hold us over. Watch Liam and Niall's heartwarming reunion video ahead.
Really love this!! I miss you guys. So much. #niall #liam #niam pic.twitter.com/wdirbY4k6R

- Vina (@vi_nial) June 24, 2017