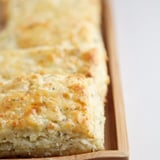 1. Use shortening.
Butter isn't the only thing that biscuits need - shortening is the secret ingredient that makes the biggest impact. You can use any kind of vegetable shortening, aka a fat that has become solid at room temperature. A little bit of shortening is what makes the biscuits light and flaky like nothing else can. Someone in the audience asked Carla what kind of shortening she uses, and she responded, "Good old Crisco."
2. Grate the butter with a box grater.
Before incorporating butter, you'll want to make sure it's cold and hard (not softened after sitting out of the refrigerator). Use it straight from the fridge, and then grab your box grater. It's a known trick that grating butter is the fastest way to get it to room temperature, but Carla uses this technique for another reason: to get even, flat pieces of butter that will be help form a cohesive dough. Carla's other pro tip is to spray the box grater with cooking spray so that the butter slides smoothly without sticking.
3. Bake the biscuits with the smooth side up.
You'll want to pay attention when you're cutting the biscuit dough into circular shapes with your biscuit cutter. Instead of picking up the cut-out biscuit and placing it on the sheet as it is, turn each one over so that the smooth side - or the side that was just touching the board - faces up. This ensures each biscuit bakes perfectly and evenly, and the tops will be uniform. Feeling inspired to make a batch at home? Get Carla's full recipe below.
Get the recipe: Carla Hall's buttermilk biscuits
Travel and expenses for the author were provided by the Colorado Tourism Board for the purpose of writing this story.