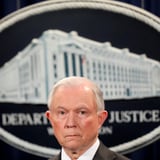 This post will be updated continuously throughout Sessions's testimony today
The Senate's Russia investigation is back in the news today as Attorney General Jeff Sessions takes the stand to testify before the Intelligence Committee on all things Donald Trump, Russia, and former FBI Director James Comey. That's right - after last week's blockbuster testimony from Comey, Sessions has a lot to answer for with regards to the sequence of events that have played out since President Trump took office. What's most notable here, however, is the fact that Sessions himself asked for an open hearing before the panel. He was previously slated to meet behind closed doors with Congress to discuss his department's budget - an appearance he's now delegated to his deputy, Rod Rosenstein. In an effort to head off what he believed would be an onslaught of questions about Russia and Russia alone, he decided to flip the script in order to tell his story directly to the American people. It's a move most political experts see as a savvy way to avoid both suspicion and leaks from a closed-door testimony.
Sessions notably recused himself from his role as chief investigator in the Russia investigation in March after it was revealed that he did not disclose two meetings he had with Russian Ambassador Sergey Kislyak in the lead-up to the 2016 election. But whether or not he was taking the recusal seriously came into question back in May, after it was discovered that he was involved in the high-profile firing of James Comey. Comey, for his part, fired back in the closed-door portion of his Senate testimony, reportedly confirming that the FBI had been investigating a third meeting with Kislyak that Sessions neglected to disclose to officials.
While Sessions probably won't give us a Comey-style dramatic retelling of events, one would hope that he would come with a pretty solid set of facts - and a very good reason for not sharing those facts, should the situation warrant it. He's facing a Senate committee that is still fuming from last week's unsuccessful grilling of the intel chiefs, all of whom not only refused to give answers but also refused to give legal justification for their silence.
Whatever happens in today's hearing is bound to be interesting, though - so we'll be breaking down the facts, moment by moment, and giving you a rundown of exactly what you need to know going forward.