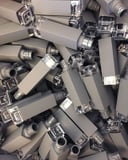 Made with monoi butter and coconut oil for a smooth, nourishing, creamy application. Introducing The Amuse Bouche Liquified Lipstick: 12 richly pigmented shades that glide on smooth and transform to a semi-glaze finish. Coming mid-July to @Sephora #TheLiquifedLipstick. Read more: #LinkInBio
Update: beauty gals, get excited! Bite Beauty officially confirmed the news about its Amuse Bouche Liquified Lipstick on Instagram. "Coming mid-July to Sephora," the brand revealed to its followers on Saturday. Now excuse us while we start our countdown until we can officially own all 12 shades!
Original story: Are you ready for Bite Beauty's liquid lipsticks? The beloved beauty brand recently teased its upcoming product by posting an image of empty liquid lipstick tubes, writing, "#ComingSoon." According to a report from Allure, the new lipsticks will be "a liquified version" of Bite's popular Amuse Bouche lipsticks and named after various cooking techniques, including flambé, purée, and demi-glace.
According to Bite Beauty's own website, the upcoming lipsticks are "made with natural monoi butter and coconut oil, which melt at the temperature of your lips." Keep reading to see each pigmented shade ahead, then watch this space for any updates on when you'll be able to get your hands on each one. Fingers crossed it's sooner rather than later.