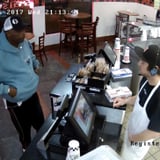 Sometimes, life hands you a bad day and you need to just let it ride out. That's how one Jimmy John's employee seemingly approached a robbery at gunpoint as he stoically handed the gunman money from the register.
The robbery took place at a Jimmy John's in Kansas City, MO, on April 26 at 9:15 p.m. In a video uploaded to YouTube by the Kansas City Police Department, the suspect, wearing a blue hoodie, enters the store and orders an item. As the cashier tells him his total, the suspect pulls out a gun. The Jimmy John's employee then takes off his gloves, hands him all the money, and even tries to give him the drawer with all the change. You can watch the encounter ahead.
The video quickly went viral on the internet, with some people on Twitter noting that the gun looks like it was jammed and that's why the cashier was so chill. According to the Kansas City Police YouTube page, police have the suspect in custody and they wrote, "Investigation is continuing." We hope the cashier and anyone else working during the robbery are home safe and sincerely OK.