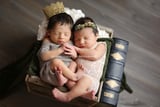 Born just 18 hours apart, in the same hospital, by the same doctor, in rooms next door, and coincidentally named Romeo and Juliet, these newborns were destined to be friends from the start. But as their story has captured hearts across the internet, these star-crossed babies have also led their parents to form an unexpected friendship.
Many people don't expect to leave the maternity ward with newfound fame and pals, but most also don't have birth stories quite as cute as little Romeo and Juliet's meeting in the hospital's nursery. Since the families left the hospital, they reunited the following week for a Shakespeare-inspired Photo shoot. Cassie Clayshulte photographed the babies before they were discharged and also during this follow-up session. She told POPSUGAR that she was nervous about doing these follow-up photos because of how people might react.
"I had been thinking about doing a little themed shoot for them since their first photo was taken in the hospital, but I wasn't sure how I was going to style a newborn Romeo and Juliet shoot without it looking a little bit cheesy or morbid because of the way the story ends and because newborns are typically asleep for their session for safety reasons," she said. "I was hesitant because I didn't want my clients subjected to any Negative Comments by internet trolls who have the audacity to write negative comments on photos of newborn babies. (I'd like to see these cowards say these things to a new mom to her face.)"
However, Romeo's parents, Morgan and Edwin Hernandez, and Juliet's parents, Allan Umana and Christiana Shifflett, were thrilled at the idea and moved forward with the photos without making it feel too themed. Cassie made the lace romper and floral crown that Juliet wore as well as the brown romper and gold crown for Romeo.
"It was great to see these sweet families again! The parents have become such close friends and now have an adorable story to share!" Cassie added. "The babies loved being snuggled up to each other, which is not typical when they aren't twins who are used to being next to each other in the womb. They just loved each other and even held hands!"