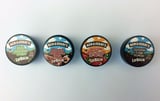 When I'm in the frozen foods aisle at the supermarket, I immediately beeline towards the freezer that's housing Ben & Jerry's. I can't escape the lure of my favorite flavor (Chocolate Therapy!) or the siren song of potential new pints. So, when I visited a local scoop shop and discovered that the brand makes its own ice cream-inspired lip balms, I was pretty much in heaven. (As a beauty editor and foodie, food-flavored or -scented makeup - or anything, really - is a total weakness of mine.)
These aren't your average balms, either. They are made with organically-derived oils, including extra virgin, palm, hemp seed, and jojoba, which not only provide nourishing hydration, but speak to the Ben & Jerry's mission of incorporating natural ingredients into its products. The treatments also feature stevia, which provides a yummy sweetness when the wearer licks his or her lips.
For now, there are only four flavors available and they are most easily found at the brand's gift shop in Waterbury, VT, or its scoop shops, but you can buy them over the phone directly from Ben & Jerry's here for a very affordable price of $4 each. Keep reading to discover the flavors and decide which one to buy first!