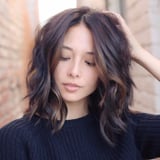 "I SEE RED!" "Does that look orange?!" "I HATE BRASSY!"
In the salon world, I hear these exclamations often, and they know no geographical boundaries. As a Beverly Hills-based hair colorist visiting New York and Latin America regularly to color clients' hair, I witness this reality first-hand. The anti-Warm Hair Color sentiment is widespread. It's the first thing 90 percent of my clients mention under the do-not-want column during my initial color consultation.
Why are so many people fearful of warm tones in their hair? Much of the fear lies in the confusion between warm and brassy - and we all fear brassy. As a professional, I love giving each of my clients Hair Color 101 so they understand reality and tonality. Warm tones are golds, coppers, and reds that can be extremely flattering and fun. Brassy tones are also warm, but they are unintentional, often mistakes, and never becoming. One example of brassy is when your highlights oxidize, usually from tap water, and turn from their intended tone to a bad shade of calico mustard.
The fear of warm hair color often stems from our destined-to-fail experimentation period in life, mostly in our teenage years. Expressing ourselves with Sun-In, peroxide, and an array of at-home products eventually leads to hair color tragedy. The results - splotchy, multitonal messes - have scarred my clients for life and convinced them that warm tones like gold, copper, and red must always be mistakes.
Another explanation for why people have such an aversion to warm tones is kokkinomallisophobia, or "gingerism." A fear of red hair feels totally absurd to me. My mother is a true ginger and one of the most beautiful woman in the world to me. But just dig a little online and you will see history has reportedly been unkind and downright cruel to gingers going back centuries. Supposedly, at the end of the 1600s, the belly fat of a red headed male was a key ingredient in poison. In some countries, being a redhead is still considered a curse. The time has come to rethink our preconceived notions about red or "brassy" hair and embrace the trend of warmth!
If you've already gone warm but you notice your hair is turning brassy, try cocktailing a violet-colored shampoo with a sulfate-free hydrating shampoo. Also, shower filters help remove minerals that cause oxidation and brassiness, and a gloss at the salon works wonders and lasts four to eight weeks depending on how often you shampoo and which shampoo you use.
If you want warm hair color but were told no in the past, I recommend trying again. Gather your favorite photos of warm hair colors you love and book a consultation with your hair colorist. (Pro tip: to save time, have the photos "hearted" on your phone so they are in your favorites folder.) Ask your colorist to consider subtle hints of warmth in your hair, like golden babylights, caramel balayage, and apricot-toned lowlights. From there, your color might evolve into something more adventurous. The end result should leave you looking and feeling good! After all, feeling good looks gorgeous on everyone.
Chad Kenyon is a celebrity hair colorist and Olaplex Ambassador based in Los Angeles. His celebrity clients include Elizabeth Moss, Carla Gugino, and Abigail Spencer.