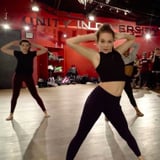 Little Mix recently released the music video for their latest single "No More Sad Songs," but it's one of their other upbeat tracks, "Touch," that gets a whole new life with this incredible Dance Routine.
Choreographer Brian Friedman shared the video to YouTube on Wednesday, showing a group of talented dancers - including two of our favorites, Jade Chynoweth and Maddie Ziegler - busting out their best moves (including gymnastics!) to lyrics like, "Just a touch of your love is enough / To knock me off of my feet all week." The song also got the Ed Sheeran treatment in early March; the singer covered "Touch" for BBC Radio 1's Live Lounge, and his version had us unbuttoning our shirt.
Watch the video above now, then be sure to see more of Jade in this supersexy routine to Tinashe's "Party Favors."