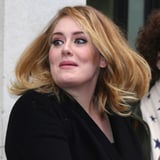 Adele making her own language up 😂 pic.twitter.com/QmzkhiSgaz

- PAIGE 💝 (@paige_hemingway) March 6, 2017
Adele may be one of music's biggest stars, but even she gets scared of bugs. The "Hello" singer had a hilarious moment during her concert in Brisbane, Australia, on Sunday when a Mosquito went rogue and attacked her on stage. "I'm sorry, I'm not Australian. I don't like bugs!" she told the audience as she frantically flailed her arms and ran for her life. "It was sucking my blood; it was sucking my blood!" Naturally, the audience got a good laugh out of it, and it was all caught on camera.