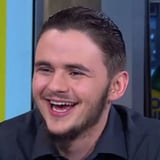 WATCH: @RobinRoberts one-on-one with @princemjjjaxon; the King of Pop's son steps into the spotlight pic.twitter.com/Obm0F2NHjO

- Good Morning America (@GMA) March 6, 2017
Just like his older sister Paris, Michael Joseph "Prince" Jackson Jr. is stepping into the spotlight. The typically private 20-year-old sat down with Good Morning America's Robin Roberts on Monday to discuss how he's been using the last few years to build something his father, Michael Jackson, would be proud of. "I'm not a fan of having my private or personal life being out there," he said. "But I understand the importance of showing what I do and hopefully trying to inspire others to continue spreading the good and helping the community." In addition to discussing the charity organization he started to aid victims of child abuse and homelessness in the LA area (called Heal L.A.), he also revealed that he's hard at work creating a media empire that will hopefully rival the one the King of Pop built, but help him create his own identity. "It's a form of motivation," he said of his production company's name, King's Son Productions. "My name is Prince, but for all intents and purposes, I'm the King's son. I am working to get my own epithet."
Although there weren't quite as many bombshells as in his sister's interview with Rolling Stone, Prince opened up about the influence his father had on him, despite his untimely death in 2009. "Even after we realized he was the King of Pop - even to this day - I don't think it holds the same weight to us that it does to other people, because he was our father, our dad, our daddy - whatever you want to call him," he explained. "As we were growing up, my dad always said, 'I really don't care what you do in life as long as you're happy doing it and you're the best at what you do. If you want to be a janitor at a high school, you should be the best janitor that you can be.'"