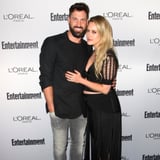 Maksim Chmerkovskiy is one proud dad. The Dancing With the Stars pro and his fiancée, Peta Murgatroyd, welcomed their first child together, a son named Shai, on Jan. 4, and they are already loving their new routine. Maksim posted a moving photo on Instagram on Thursday to give his fans an update on his first few days as a dad. He captioned the snap, in which he's cradling his newborn while looking out a window:
"It's been one week plus one day of my fatherhood and I'm the happiest person that's ever lived. I'm also feeling very protective and now understand what every parent in history have been going through for as long as humans have been giving birth. I don't let too many people come see my son and I don't want to put any of him on social media just yet. @petamurgatroyd and I just want to enjoy our little family, together with our loved ones, and take in all the precious moments which we'll never get back. So be sensitive please. Or not. Either way, hope everyone's year is off to an incredible start. Ours sure started with a bang 😊 P.S. Farts, poops and throw-ups are the best!"
Maksim and Peta got engaged in December 2015 and announced their pregnancy in June 2016. We already can't wait for more updates from this sweet, sweet family!