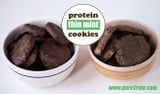 Everyone loves the famous Girl Scout Thin Mints, right?
A rich chocolate Cookie with a wonderful balance of mint mixed it. A cookie that tastes amazing cold!!
Well we have created a healthy version of this classic cookie. This will become your go to thin mint cookie recipe, trust us! We have already heard from so many that they just love this recipe. So try it for yourself and let us know what you think.
check out our Protein Thin Mint recipe. it is made from protein powder, coconut oil, and sweetened with stevia, so SUGAR FREE too! we offer 5 different variations. and the best thing about these cookies is there is no baking required!
We have two videos of us making them, so you can see how easily it is to make these Protein Thin mint cookies.
Enjoy! Let us know how much you like them.
Lori and Michelle
pure2raw twins