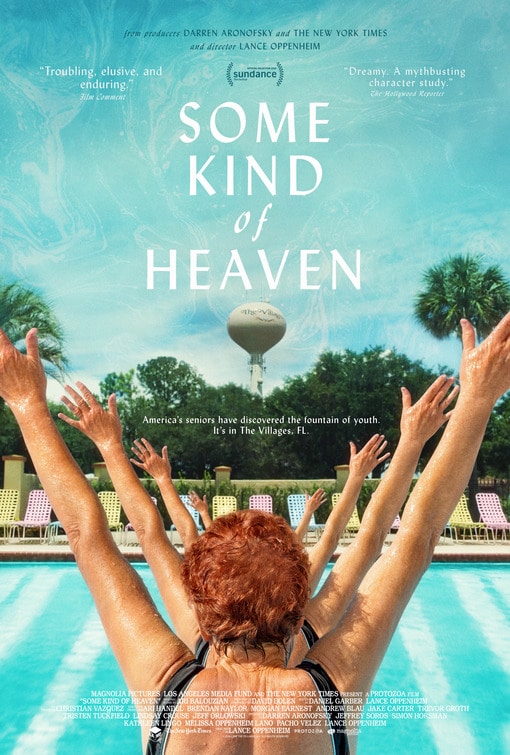 Pre-Screening Stance:
It's a documentary about a 130,000 person "retirement community" in Florida. If the trailers are speaking truth, it's also gorgeously shot and tinged with darkness. I love things that are tinged with darkness.
Post-Screening Ramble:
I watched Some Kind of Heaven on the ninth day of 2021 and I wouldn't be surprised to see it end up somewhere on my EOY list. The debut full-length documentary from Lance Oppenheim is across the board astounding. Oppenheim – a noted chronicler of the odder communities inherent to the mini-nation of Florida – trains his cameras on The Villages, a 32 square smile retirement community a stones throw from Orlando. The film follows a handful of storylines – a widow trying to find herself in the absurdity of The Villages, a couple struggling with unexpected late life issues, a grifter looking to settle down – dividing each "act" with a Oppenheim's gorgeous capturing of the extracurricular activities members of The Villages can partake in. If the director had made the decision to go entirely Frederick Wiseman and just stitch together a series of what you might call "active life at The Villages" vignettes, this would still be a fascinating document of a baffling community. But, Oppenheim has bigger fish to fry, and his capturing of the lives of each of his subjects broadcasts the absolutely strange microcosm that The Villages are. In doing so, he shines a quiet light on getting old in what amounts to a vacuum. The Villages is touted as all fun, all the time, but Oppenheim scratches the surface and the normal emotional burdens we all carry spill out. I found Barbara (the widow) to be the most interesting (though every storyline will more than hold your interest), a woman who moved from Connecticut with her husband to start the second phase of their life only to see him die, leaving her to rediscover herself almost entirely. Cinematographer David Bolen captures her compartmentalized grief and her want of human companionship so brilliantly and her very last scene is so surreal, but so full of hope. If a better documentary comes out this year, well, then this is a fantastic year for the genre.
Some Kind of Heaven comes out in theaters and on demand this Friday, January 15.
One Last Thought:
The cinematography is so good in this film I often wondered if some of it was staged. It wasn't (that I know of) but man, it's so spot-on you have to wonder sometimes.
Another Last Thought:
Seriously, Barbara's story has the best arc, but the story of Anne and her husband Reggie (who's decided to indulge in last-life psychedelics) is funny and strange and sad. And David – a lothario who needs to find love so he doesn't starve to death – again, you just don't know where it's going to go, but where it does is fantastic.