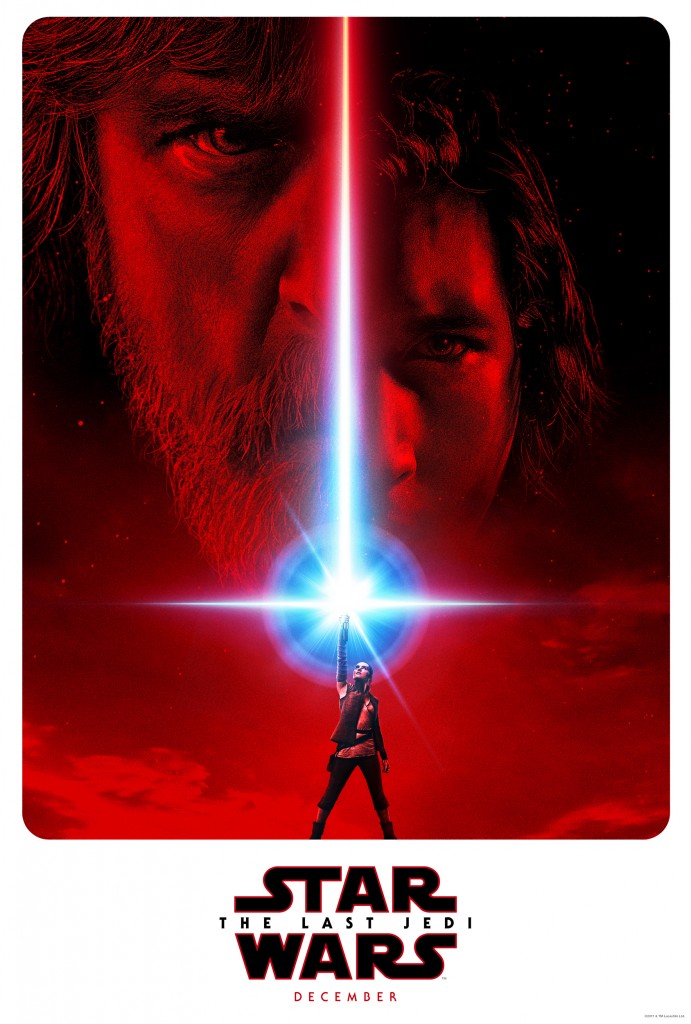 Pre-Screening Stance:
The teasers for The Last Jedi have been great, the early reviews have been very positive, and Disney supposedly liked it so much that they felt comfortable enough to give director Rian Johnson his own Star Wars trilogy. I couldn't be more excited to see this thing.
Post-Screening Ramble:
The Last Jedi is a tough one to review without dipping into spoilers, but I'll do my best since it's definitely a film that's best seen with no knowledge of what's coming. Here's the gist – Rey is on a mission to recruit Luke Skywalker to help fight the First Order, who are bearing down on the rebel army. Now, here's what I generally thought about The Last Jedi – I loved it. The film picks up right where The Force Awakens ends, and then it plows through a ton of plot before gracefully throttling down and leaving you feeling spent. I was honestly really surprised at how much ground the movie covers. Rey (Daisy Ridley) and Kylo Ren (Adam Driver) are certainly at the center of it, but there's also quite a bit that happens with Luke (Mark Hamill), Leia (Carrie Fisher), Finn (John Boyega), Poe (Oscar Isaac), Snoke (Andy Serkis) and Hux (Domhnall Gleeson), plus more with newcomers Rose (Kelly Marie Tran), DJ (Benicio Del Toro) and Holdo (Laura Dern). Seriously, there are a lot of storylines and characters, but thankfully writer/director Rian Johnson does well to keep The Last Jedi from ever feeling cluttered. Speaking of Johnson, he also deserves kudos for the breezy pace that never falters over the film's two and a half hour runtime, and for masterfully providing emotional heft to an oft-loud mix of action and humor. Movies like The Last Jedi don't often garner "best director" awards, but I really believe he should be in the running this year.
Go see The Last Jedi, as it's one of the best Star Wars entries.
One Last Thought:
There's definitely a variety of similar plot points in regards to The Force Awakens/A New Hope and The Last Jedi/The Empire Strikes Back, but I'll say this, I have no idea what to expect from the impending third movie. It definitely seems as though it could end up being the one entry in the new trilogy that's fully unique.
One More Last Thought:
After watching The Force Awakens and The Last Jedi, I now believe that clunky dialogue is just an overall Star Wars thing that can't be solely blamed on George Lucas. I mean, Laura Dern is an incredible actress in what's one of the best movies in the franchise, and yet her character talks like one of those moms that can't remember how to say the name of their child's favorite band.

The post Movie Breakdown: Star Wars: The Last Jedi appeared first on Side One Track One.