In a year of crucial votes across the continent, the Dutch vote is being closely watched to gauge the strength of the tide of populism that swept Britain towards Brexit and Donald Trump into the White house has reached its peak.
Most of the focus has been on "Holland's Donald Trump", the controversial right-wing populist Geert Wilders, whose Party for Freedom is expected to perform well.
Casting his ballot in The Hague, Mr Wilders told reporters: "The common people, who are interested in getting their country back, and returning our national sovereignty, are hopefully voting today in huge amounts."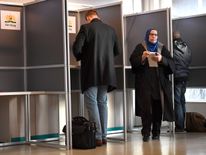 The election in the Netherlands comes ahead of polls in France and Germany, when right-wing nationalists will also be key players.
During a final election debate among leaders from the parties vying for seats and control of the government, Mr Wilders kept up his anti-Islam rhetoric, while incumbent centre-right Prime Minister Mark Rutte sought to highlight his leadership experience.
SKY News.