The US President-elect told The Times newspaper leaving the European Union would be a "great thing" for the UK, hailing the referendum result as a demonstration that British people "want their own identity".
In contrast to Barack Obama, who said the UK would be at the "back of the queue" for trade talks, Mr Trump made clear a deal with Britain would be a priority for his administration.
He said: "We're gonna work very hard to get it done quickly and done properly. Good for both sides."
The President-elect spoke to the prominent Leave campaigner in his New York office - making Mr Gove the second British politician, and the first MP, to get a meeting.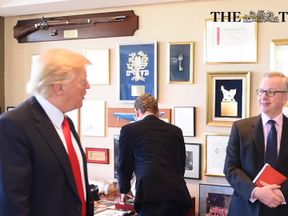 He made clear that, unlike Mr Obama who backed Remain in the referendum, he supported the narrow win for the Leave campaign.
He said: "People, countries, want their own identity and the UK wanted its own identity. Brexit is going to end up being a great thing."
Mr Trump said he believed Europe's migration crisis had been the deciding factor in the referendum.
He said: "I do believe this, if they (EU countries) hadn't been forced to take in all of the refugees, so many, with all the problems that it... entails, I think that you wouldn't have a Brexit.
"It probably could have worked out but this was the final straw, this was the final straw that broke the camel's back."