Venezuela's highest denomination banknote has ceased to be legal tender, in a move that has caused cash chaos and long queues at banks this week.
Some cash machines on Thursday were still issuing the old 100-
Bolivar
notes, hours before they expired.
President Nicolas Maduro said new higher-denomination bills would be fully distributed in January.
He has closed the borders with Brazil and Colombia until Sunday to stop "mafias" hoarding the currency abroad.
Venezuelans have been seen lining up outside banks after they were given 72 hours to exchange the 100-bolivar note for new larger denomination notes and coins.
The 100-bolivar note is worth just two US cents on the black market.
Some people on Thursday still received the 100-bolivar notes when they withdrew money at ATMs, then immediately had to queue up again to re-deposit the soon-to-expire notes.
"I don't get the joke," office worker Yarelis Carrero, who lives in the capital Caracas, told the AFP news agency. "When you withdraw cash at the ATMs, they give you 100-bolivar bills. And you can't get the new ones inside the bank, either."
Another bank customer said no-one had seen the new bank notes yet. "A guy I know who works for an armoured truck company said even they haven't seen them. Pure lies!" Saul Bernal said.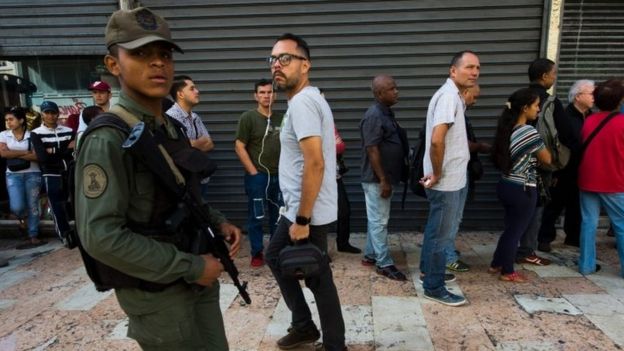 BBC News.
This post first appeared on Quest Times, please read the originial post: here