Two phones have just got certified by the Eurasian Economic Commission (EEC) in Russia and by what they appear; they are certainly the Redmi Note 6 and the Redmi Note 6 Pro.
Xiaomi has presented the Redmi 6 series back in the month of June, but there was no Note variant at all, only the Redmi 6A and the Redmi 6 Pro (afterwards coming as Mi A2 Lite with stock Android).
The two phones have been seen in just one listing having the model numbers of M1806E7TH and M1806E7TG. These devices are not getting certified for the first time- by this time, they have come out at FCC and Taiwan's NCC and are going to come having MIUI 9 out of the box and are supposed to carry with them all latest Wi-Fi, voice and data connectivity standards.
The Redmi Note 6 is supposed to be the logical successor of the Redmi Note 5/Redmi 5 Plus, whereas the Redmi Note 6 Pro may perhaps be the another variant, in the same way as to the Redmi Note 5 Pro or the Redmi Note 5 AI Dual Camera.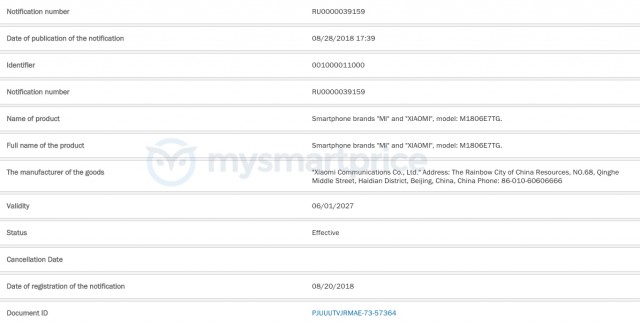 The post EEC certify Xiaomi Redmi Note 6 and Xiaomi Redmi Note 6 Pro appeared first on Ghana Live TV.