Welcome to this article on how to pray daily.
First I would like to congratulate you for wanting to Pray and desiring to know how to pray daily.
I personally learned how to pray daily by reading the Bible (cover to cover) and by listening to The Holy Spirit and also a combination of remembrance of a Prayer from childhood, which I also incorporate.
Prayer is the most direct way we have access to God, via the Holy Spirit and in the precious name of Christ Jesus.
I know that there are church bodies out there that can talk all day about God and seemingly with great authority. However, some often forget that their congregation are not all pros and some of their people need to be led by the hand in prayer (that is to say all must crawl before they can walk in the LORD).
Even the bible doesn't have a beginner's prayer on how to pray daily. Don't get me wrong, the bible are full of prayers but not something simply and completely laid out as relative to our conversation.
So without further adieu, let's get you started off most correctly.
The first thing you want to do, in how to pray daily, is go somewhere that is quiet (no cell phones, tv, baby crying, etc.) so that you can pray without interference (if at all possible do this!)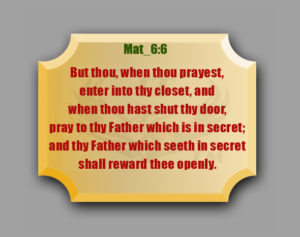 You should begin your prayer by praising God for He is good, and then follow by honoring Jesus for sacrificing His Life so that we could have eternal salvation. (The bible is full of examples of people praising God for this that and the other… "Psalms" is a good place to look.)
Here below is a rendition of the prayer I've used since childhood (with the exception of a few words). This is a powerful prayer… although it is short, it is to the point and covers a lot of ground, so to speak.
Our Father Yahweh, The Most High God, The Almighty God, That Great I AM; Which art in Heaven, Hallowed be Thy names, Thy Kingdom come, Thy Will be done as in Heaven, so on Earth.
Give us this day our daily bread and forgive us our trespasses as we forgive those who trespass against us. Lead us not into temptation but deliver us from evil for Thine is The Kingdom, The Power and The Glory forever, Amen
Feel free to use this prayer as a guide for your own prayer, at least until you become more learned from reading the bible.
I hope I've been of help to you in "how to pray daily"!