As nurses, we are driven by our passions. We became nurses because we are passionate about helping others. As Travel nurses, we love the thrill of a new adventure! Selecting a location that allows us to be a Nurse and explore outside the hospital is what makes each nursing journey so special.
We asked several adrenaline-seeking travel nurses where their best adventures took place while on assignment. We have narrowed it down to our favorite answers and hope this may help you pick your next thrilling adventure!
A Travel Nursing Mountain Adventure in Denver, CO
"Mountains, snow, hikes, bikes….oh my! While on assignment in Denver, each day off was a new adventure. One of my favorite days ever, was getting up before the sunrise and driving up to Glenwood Springs. This could have been a day itself, watching the sunrise with the stunning views of the mountains was unlike anything I have ever seen before. But I drove up there to hike Hanging Lake, which was more beautiful than I imagined, and then went to the Hot Springs after to restore and relax in the beautiful scenery." – Sarah, RN
Rivers, Lakes and Oceans While Travel Nursing in Portland, ME
"I loved spending my days at the rivers and lake soaking up the sun or doing something a little crazy like building a rope swing! I took a class at South Portland Sailing Center – have you ever sailed in the Atlantic Ocean? It is definitely a must do!" – Brandon, BSN, RN
Zip Lining in Asheville, NC While on Assignment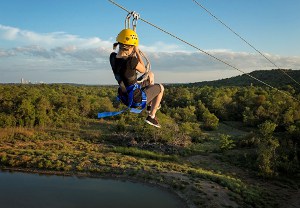 "There is so much to explore and discover in Asheville, everyone is always outside, it's part of the culture there. My favorite thing I did while on assignment, was take a zip line through the Blue Ridge Mountains! There is no better way to see these glorious mountains." – Melba, RN
Travel Nursing Leap in Bend, OR
"Bungee jumping over water was always on my bucket list, I thought this could only happen for me on some exotic vacation. But I found out that the tallest commercial bungee jump in North America was located right in Bend and I signed up to do it on my next day off! It was a thrilling way to jump into my assignment." – Jason, RN
Mountain Biking While Travel Nursing in Austin, TX
"Austin has so many great outdoor adventures that it's hard to nail down just one. I was on assignment there during the holidays and of course had my mountain bike with me, we went on a trail known as the Loop 360. Not only did this path have some the most amazing views of the city, you could also see all the pine trees decorated for the holidays. It was magical." – Clara-Ann, RN
Myrtle Beach, SC for Beach Bummin' as a Travel Nurse
"I love everything about the beach, there is nothing as calming to me as listening to the waves crash onto shore after or before a long shift. I was lucky enough to be on assignment in Myrtle Beach during the summer, so I took advantage of every single day I had off. I went parasailing, toured the islands, went deep-sea fishing, and swam with the dolphins. On one occasion, a few nurse friends and I rented a Banana Boat – where we basically just rode the waves. This was such a memorable day because I literally laughed so hard all day!" – Natasha, RN
About the Author:

These travel nursing adventures are testaments from travel nurses across the country. GIFTED Healthcare puts nurses first, always. With a nurse-centric culture and core value system around the work of the nurse, GIFTED helps nurses achieve both their professional and personal goals. GIFTED offers exciting options to work Local Contracts, LTAC contracts, Per Diem Nursing shifts, Travel Nursing assignments, Infusion Nursing shifts, or exciting Government Nursing contracts. GIFTED Healthcare was also named a best "Travel Nursing Companies 2017" by BluePipes. To learn more about joining the GIFTED family, visit www.GIFTEDhealthcare.com and follow us on Facebook and LinkedIn.
The post The Top Locations for the Outdoor Enthusiast Travel Nurse appeared first on BluePipes Blog.