Travel Nursing is pretty complicated, especially when you're just starting out. There are so many variables involved, from finding the best Travel Nursing agencies to understanding the pay packages and more. As a result, there are many great websites packed with useful information and powerful features to help you along the way. In this article, we'll take a look at some of the most popular travel nursing websites of 2016 and who owns them.
We published an article on the same topic in June of 2015. A lot has changed since then which is no surprise. The internet is a fluid ecosystem. Some sites have gained in popularity while others have fallen off. So, we thought it would be fun to check in on this topic annually to take stock of the changes.
That said, it's important to note that the only foolproof way to measure a website's popularity is to have access to the website's private traffic data. Of course, webmasters don't just grant access to this information willy-nilly. Therefore, we're left to use the imperfect tools at our disposal.
There are tons of services that provide metrics to estimate website traffic. They're commonly referred to as "Competitive Intelligence Tools". Some tools are better than others, but none of them are totally accurate. In fact, many experts argue that these services are quite inaccurate.
So, why are we using these services if they're inaccurate?! For starters, because it's fun! We need some way to keep score, don't we? More importantly though, just because these services are inaccurate doesn't mean they're useless. In fact, they can be quite useful.
First, each of the services has a different approach to measuring traffic. They each have different algorithms and metrics. So, if we look at them collectively, then we can get a pretty decent idea of a website's popularity and maybe even where its traffic comes from. Second, when we compare different websites from the same niche, travel nursing websites for example, then we can at least get an idea as to how all of these sites perform relative to one another.
With that in mind, we chose three competitive intelligence tools to gauge the popularity of each travel nursing website. The three services are Alexa, SimilarWeb and SEMRush. Each of them has tons of tools beyond simply measuring website traffic. We'll cross reference their data when possible to paint a picture of what's going on with each of the travel nursing websites. We provide a brief description of each service at the end of the article for those who are interested.
It's important to note that we're writing this article on November 28, 2016. The holidays are probably the least popular time of year for travel nursing websites so the rankings reported by these services are on the low side relative to the rest of the year. Additionally, these rankings fluctuate frequently. Our report shows where they were ranked on 11/25/2016. Also, we're not reporting the results in any particular order as it's not really possible to order them with confidence given the shortcomings of the services.
The Most Popular Travel Nursing Websites of 2016 and Who Owns Them
TravelNursing.org
Who owns TravelNursing.org? FullBeaker, Inc
TravelNursing.org is owned by FullBeaker, Inc. FullBeaker is a "lead generator". A lead generator is a service that finds consumers interested in specific products or services and then connects those consumers with businesses that provide those products and services. Specifically, lead generators collect consumer contact information and sell it to third parties.
Many travel nurses frown upon lead generators because they sometimes release contact information to so many third parties that the calls and emails become overwhelming. However, these services can come in handy for consumers who want to get up and running quickly. As you'll see, many of the most popular travel nursing websites are lead generators.
About TravelNursing.org
As a lead generator, TravelNursing.org includes forms for collecting the basic career and contact information of visitors who are interested in travel nursing. Agencies establish accounts with TravelNursing.org to purchase that information so they can offer their services. The website includes basic information about travel nursing and has a blog with over 100 articles.
TravelNursng.org might be the dingle most trafficked travel nursing website. They're the highest ranked service on Alexa and SEMRush, and they are among the highest ranked on SimilarWeb. SEMRush indicates that they rank very high in the Google search results for thousands of popular search terms related to travel nursing.
In fact, you'll probably see the site listed among the top three results for almost every travel nursing related search on Google. They also have a big social media presence with over 100,000 likes on Facebook.
TravelNursing.com
Who owns TravelNursing.com? AMN Healthcare Services, Inc
TravelNursing.com is owned by AMN Healthcare Services, Inc, the nation's largest healthcare staffing firm. AMN has quite a few subsidiaries engaged in travel nurse recruiting including Onward Healthcare, NursesRX, and NurseChoice. Each of these services is listed as a partner on TravelNursing.com.
About TravelNursing.com
TravelNursing.com has a News section that includes hundreds, if not thousands, of articles on a wide range of topics related to travel nursing and nursing in general. The News section includes an "Ask An Expert" topic where travel nurses write articles answering a wide range of questions about travel nursing.
TravelNursing.com also has a job board with thousands of job listings. Visitors can sign up to receive job alerts and/or apply to jobs directly through the site. Additionally, the site allows visitors to enter their basic contact and career related information in order to have an AMN representative contact them to discuss travel nursing. In this sense, the website generates leads for AMN and its subsidiaries.
TravelNursing.com ranks well with all three competitive intelligence services. Their Facebook page has over 12,000 likes, but they don't receive much of their traffic from social media currently. According to SimilarWeb, the vast majority of their traffic, over 87%, comes from search engines.
TravelNurseSource.com
Who owns TravelNurseSource.com? Track5Media, LLC
TraveNurseSource.com is owned by Track5Media, LLC. Track5Media is a lead generator. In addition to TravelNurseSource, they operate AlliedTravelCareers, LocumJobsOnline, and AllTruckJobs.
About TravelNurseSource.com
TravelNurseSource has blossomed from a basic lead generator into a robust feature-rich website. They have a blog covering a wide variety of topics related to travel nursing and nursing in general. They have a job board where over 70 travel nursing companies post jobs. It might be the largest travel nursing job board on the web. They have agency, recruiter and hospital profiles and they allow users to submit ratings and reviews for all three.
TravelNurseSource ranks relatively well on both Alexa and SimilarWeb, but they're ranked fairly low on SEMRush. This indicates that they may not be getting much traffic from search engines. According to SimilarWeb, much of their traffic comes from Referrals and Email. This makes sense given that TravelNurseSource posts jobs from their job board to websites like Indeed and Jobs2Careers. When visitors to those sites view a job, they are directed to the job on TravelNurseSource.
TheGypsyNurse.com
Who owns TheGypsyNurse.com? Uncertain (see below for details)
TheGypsyNurse.com was created in 2012 by Candy Treft, RN, an experienced travel nurse. In May of 2016, Candy published an article on her blog announcing the business was sold to private investors. An updated version of the article clarifies that Candy still has an ownership stake, but is not the primary decision maker. This indicates the private investors own a majority stake in the company.
Soon after the announcement, questions regarding whether or not TheGypsyNurse was purchased by a travel nursing company prompted Candy to address the issue on her blog. Our research turned up publicly available information indicating that TheGypsyNurse was purchased by a group of investors which, at a minimum, includes individuals who operate and/or own a travel nursing agency. Here is what we found.
In July of 2016, two new domain names bearing the TheGypsyNurse moniker were recognized by various competitive intelligence tools. Those domain names are thegypsynurse.info and thegypsynurse.us. We visited the domains in July of 2016 and found a highly developed website open to the public. The website, which was parked on thegypsynurse.us, was called "RN Travel Club". A screen shot is below.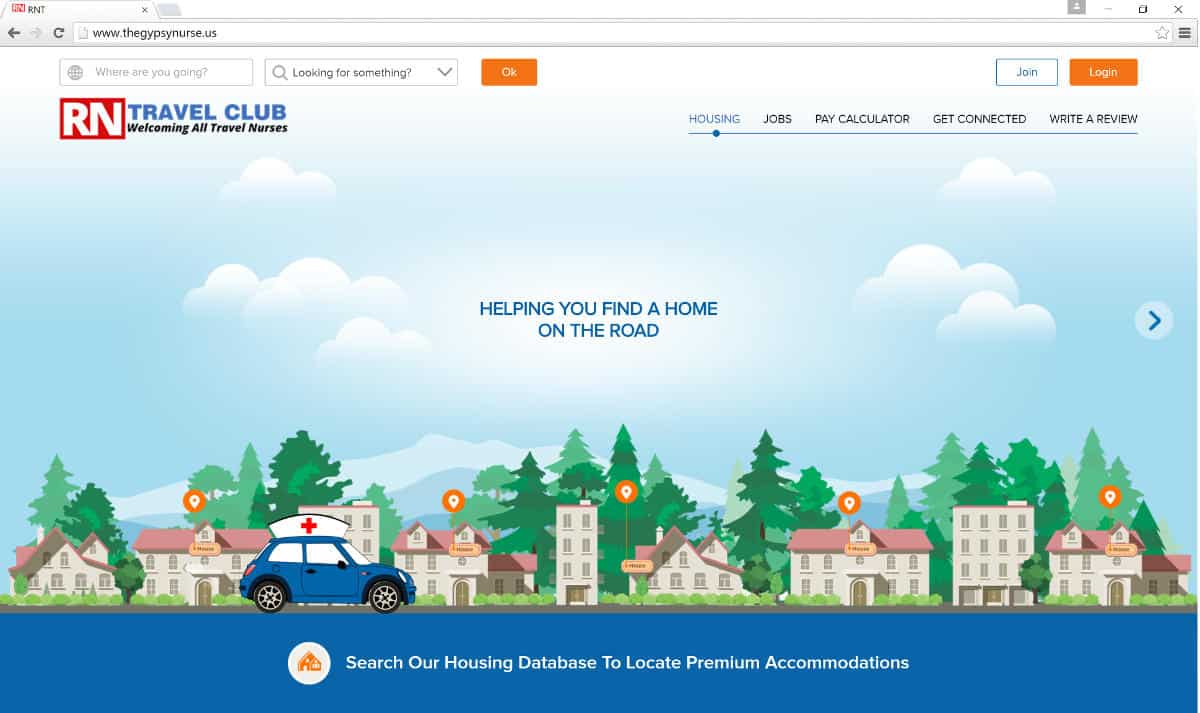 WhoIs rntravelclub.com?
We entered "rntraveclub.com" into our browser and it redirected to thegypsynurse.us. This means the owner of rntravelclub.com had configured their domain settings for the redirect. The redirect has since been removed.
According to ICANN (The Internet Corporation for Assigned Names and Numbers), rntravelclub.com is owned by a staffing firm called CEO INC. For those not familiar, ICANN is the non-profit organization charged with keeping track of domain name registrations and ownership. Anyone can perform a "WhoIs" search through ICANN and other services to lookup the registration information of domain names.
We also performed a WhoIs search for thegypsynurse.us and thegypsynurse.info. The registered owner of both domain names is Randy Hollaran. According to his LinkedIn profile, Randy is the President of Go Healthcare Staffing which specializes in the recruitment and placement of travel nurses. He is also the Chief Operating Officer of CEO INC, the owner of rntravelclub.com.
The publicly available WhoIs information also provides contact email addresses for the registered owners of domain names. The contact email address listed for thegypsynurse.info and thegypsynurse.us is [email protected] This is another indication of the connection between RN Travel Club and The Gypsy Nurse.
CEO INC and Go Healthcare Staffing share the same address in Charlotte, North Carolina according to their respective websites. Additionally, the North Carolina Secretary of State's public records list Deborah Millhouse as the Registered Agent and President of both CEO INC and Go Healthcare Staffing. Finally, North Carolina's public records also state that Go Healthcare Staffing, Inc. was previously named CEO Healthcare Inc.
Marketing materials for TheGypsyNurse currently direct viewers to thegypsynurse.us to pre-register for the new website which is scheduled to go live sometime in the fall of 2016. The original website owned by CEO INC, "RN Travel Club", has been re-branded as the "The Gypsy Nurse" with some design variations. However, the original RN Travel Club design is still present on the updated website along with RN Travel Club's original "favIcon" located on the top left of your browser's tab (sample image below).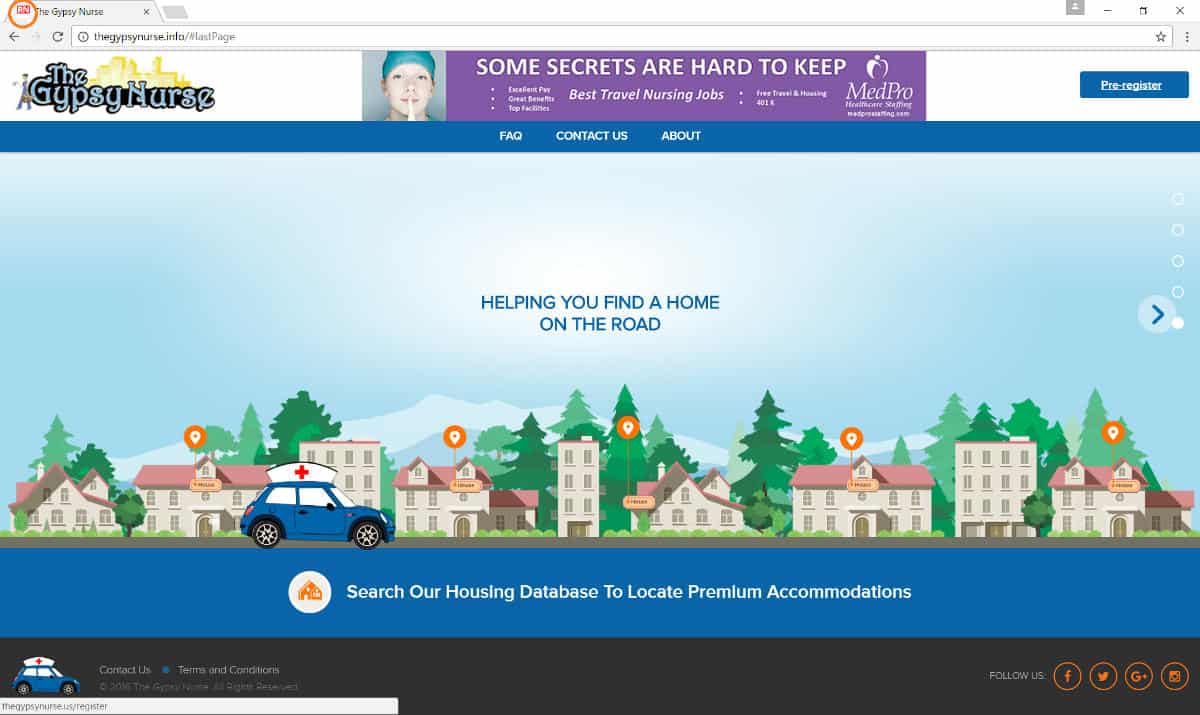 As far as we can tell, all of the features currently advertised on TheGypsyNurse were present on the original RN Travel Club website. The highly advanced state of the website as far back as July indicates it had been under development for quite some time. It's interesting to note that the North Carolina Secretary of State's public records include a company named "RN Travel Club, Inc" which was formed on 10/7/2015 and since dissolved.
About TheGypsyNurse.com
Currently, TheGypsyNurse.com includes a job board and a blog full of great information for travel nurses. The job board currently includes job listings from 36 different agencies. Visitors are asked to fill out a simple form and upload their resume to apply for jobs.
The blog provides information on every aspect of travel nursing as well as some general information. There is a "Resources" section with a series of 27 blog posts that take you through the start-to-finish process of a travel nursing assignment. The "FAQ" section is where Candy answers questions submitted by the blog's readers. There is also a "Destination Report" section that displays the results of questionnaires answered by readers about particular hospitals and cities.
The New "TheGypsyNurse" Website
The new website, which is scheduled to be released sometime in the fall of 2016, is much more robust. Visitors will be able to register for the site and complete a profile which includes the option to enter a current destination and future desired destinations. Members can rate and review a wide range of things including housing, agencies, facilities, recruiters, restaurants and more. They have also partnered with Furnished Finder to provide Furnished Finder's housing location tools.
It is currently unclear how the personally identifiable information collected by the new website will be used. The marketing material indicates the company will "never sell or distribute job application information". However, the Pre-Registration form requires users to agree to an "Authorization / Release of Applicant Information" with a link to the "Statement of Terms for Release" which includes the following statement:
Periodically, we may make our member information available to carefully screened companies we believe offer products or services, which may be of interest to our members. If you would prefer not to have your name shared with such companies, you may instruct us not to make it available by emailing your request to [email protected] If you ask us to not share your information, we will flag your member record indicating you do not wish to have your name provided to other companies and we will implement your request without hesitation. However, please note that it may take a number of weeks before any mailings initiated prior to your request are processed and delivered. As a matter of policy, The Gypsy Nurse will not disclose the names of companies to which we have provided member information. The Gypsy Nurse will also not disclose the names of organizations from which we may have acquired member information for our own marketing purposes.
Such Privacy Statements and processes are commonly used by lead generators. The idea is that members must opt-in to sharing their information as part of the signup process before they can opt-out. Of course, it's definitely possible that the company chooses not to sell or distribute member information. However, their current privacy policy certainly grants them the right to do so. It's also possible that "job application information" and "member information" are separate and distinct.
In addition to the website, TheGypsyNurse is also the administrator of many Facebook groups. The most popular group is "The Travel Nurse Network – The Gypsy Nurse". The group has over 40,000 members including recruiters and other agency representatives. However, the group maintains a strict no-recruiting policy which makes it a great place for travel nurses to exchange information. It's important to note that the group is "Public" which means all activity is available for public review.
BluePipes.com
Who owns BluePipes.com? Kyle Schmidt and Bill Clark
BluePipes is owned by Kyle Schmidt and Bill Clark who co-founded the company in 2013. Kyle was previously a recruiter and manager at Valley Healthcare Staffing. Bill is an experienced web developer. The two have been friends since 6th grade.
About BluePipes.com
BluePipes is a professional networking website for healthcare professionals. The website has features to help travel nurses manage their own documentation in order to simplify the onboarding process with new agencies. Travelers can create their own resumes and job applications designed specifically for travel nursing by simply filling out their profile and downloading or emailing the documents as PDFs. Members can complete skills checklists that can also be downloaded or emailed as PDFs. The website has a document storage system for uploading and managing copies of licenses and certifications.
Recruiters and agencies can join the website for free. However, BluePipes never sells contact information or access to contact information to third parties. Instead, the website has a messaging system that allows nurses and recruiters to communicate while keeping the nurse's contact information private. A member's contact information can only be shared by the member when they send someone their resume or application.
BluePipes also has a blog with tons of useful information on travel nursing. The Travel Nursing Pay section of the blog is particularly popular and includes several videos explaining various pay related issues. Finally, BluePipes produces a podcast called "The Truth About Travel Nursing" which can be found on iTunes and other podcast platforms.
Video – Discover How To Evaluate Travel Nursing Pay
TravelNursingCentral.com
Who owns TravelNursingCentral.com? Medical Solutions
TravelNursingCentral.com is owned by Medical Solutions, one of the nation's largest healthcare staffing firms.
About TravelNursingCentral.com
TravelNursingCentral (TNC) allows visitors to rate and review hospitals and agencies. The questionnaire for ranking both agencies and hospitals is highly detailed with each including 20 different rating criteria. Each year, TNC releases a list of the top travel nursing companies as rated by the website's visitors. These lists are well worth reviewing for travel nurses interested in finding their next agency.
The website also has a housing section that includes over 3,500 listings. There is a "Career Center" that lets visitors "Shop for a Recruiter" by perusing recruiter profiles. Visitors can also submit questions about anything related to travel nursing and receive expert advice from the TNC staff.
TravelNursingBlogs.com
Who owns TravelNursingBlogs.com? Medical Solutions
TravelNursingBlogs.com is owned by Medical Solutions, one of the nation's largest healthcare staffing firms.
About TravelNursingBlogs.com
TravelNursingBlogs (TNB) is PACKED with useful information for travel nurses. They have a checklist section with 29 articles on various topics related to the process of starting and completing an assignment. They have an "Ask a Travel Nurse" section where David Morrison, experienced travel RN and author of "The Travel Nurse's Bible" answers questions submitted by readers. You can also ask questions about housing and receive answers from Medical Solutions' Director of Housing.
TNB has separate sections for rating and reviewing travel nursing companies. The rating section lets visitors offer a simple thumbs up or thumbs down for travel nursing companies. The review section lets users write a review and provide a star rating on a scale from 1 to 5 stars.
HighwayHypodermics.com
Who owns HighwayHypodermics.com? HighwayHypodermics, LLC
HighwayHypodermics.com is owned by HighwayHypodermics, LLC which is owned by Kay "Epstein Larue" Slane RN, BSN, CGM. Kay is a highly experienced and current travel RN. As of the writing of this article, she is on assignment in Northern California.
Kay is also the author of Highway Hypodermics under the pen name Epstein Larue. The book has been updated several times since first being published in 2005. We consider the book to be the definitive guide for nurses interested in traveling and those who are already engaged in it. You can get your copy here.
About HighwayHypodermics.com
HighwayHypodermics was launched in 2003 with a mission to bridge the gap between travel nurses and travel nursing companies. In this regard, the website provides tons of useful information on all topics related to travel nursing. Travel nurses can evaluate companies they have worked with by completing detailed questionnaires covering criteria that is specifically useful for travelers. The evaluations are compiled and a list of the Top 10 Travel Companies is published annually.
Travel nursing companies and recruiters can also complete questionnaires, the results of which are published on the website as company and recruiter profiles. Travelers can then peruse the site to find recruiters and companies that can meet their needs.
The website is packed with tons of other useful tools and features including hospital ratings, licensing information, a resources page and more. HighwayHypodermics is the only 100% nurse owned and operated website on this list. We regularly recommend the site and the book as authoritative resources for travel nurses.
Kay also manages a Facebook group called "Travel Nursing Newbies". It's a great group whether you're just starting out or a seasoned vet. You can join here.
HealthcareTravelers.com
Who owns HealthcareTravelers.com? Healthcare Employment Network, LLC
HealthcareTravelers.com is own by Healthcare Employment Network, LLC. Healthcare Employment Network is a lead generator connecting nurses who are interested in travel nursing with travel nursing companies.
About HealthcareTravelers.com
As a lead generator, HealthcareTravelers.com offers forms that allow visitors to submit their basic contact and career information. The information is then transferred to the travel nursing companies that have partnered with the website. Additionally, HealthcareTravelers.com has some useful information as well as a blog for those interested in learning more about travel nursing.
According to the data provided by the competitive intelligence websites, it appears as though HealthcareTravelers.com receives a majority of its traffic from referrals. The data suggests that most of the referrals are from job boards like indeed.com.
TravelNurseCircles.com
Who owns TravelNurseCircles.com? Uncertain (See below for details)
We were unable to find any ownership information on the website itself. However, the domain name, TravelNurseCircles.com, is registered to Sejal Shah. According to his LinkedIn profile, Sejal is the CEO of Totalmed Staffing, Inc, a healthcare staffing company.
About TravelNurseCircles.com
TravelNurseCircles allows users to create a profile that can be printed as a resume. The site also allows users to upload and manage copies of licenses and certifications. According to the website's FAQs, all user data is stored with Salesforce. Salesforce is a cloud-based Customer Relationship Management software provider used by many healthcare staffing agencies.
Users on TravelNurseCircles can also submit long-form articles that are made available to the community. The website also has a job board. However, all jobs currently listed on the site are from Totalmed Staffing. The site also makes it clear that recruiters and agencies are not allowed to join the website.
According to the competitive intelligence services, more than 75% of TravelNurseCircles' web traffic is direct. Additionally, the site has a minimal presence on search engines and social media. Taken together, these variables indicate that the vast majority of the site's traffic comes from a small number of visitors, perhaps webmasters, who have competitive intelligence tracking software installed on their browsers.
Observations on The Most Popular Travel Nursing Websites – 2016
As you can see, the most popular travel nursing websites provide a broad range of features to help simplify travel nursing. They offer to simplify the process of connecting with agencies, document management tools, social media opportunities, ratings, reviews, and all the information you'll need to become a travel nursing expert.
The websites are owned and operated by wide range of groups. Three of them are owned by lead generators. Three of them are owned by travel nursing companies. One of them is owned by a travel nurse. Two of them have some uncertainty surrounding their ownership. And one of them is owned by a former healthcare staffing insider and his technical co-founder.
As mentioned above, November and December are slow months for travel nursing websites. As a result, the website traffic rankings in this article are lower than they usually are. In the future, we'll be sure to take readings in June or July when the market is at its peak. This way, we'll get a better reading as to how well these sites are resonating with travel nurses.
As always, we hope you find this information useful. We'd love to hear about your experience with this topic and welcome any questions you may have. Please post them on BluePipes Forums.
If you're interested in some wonky details about the competitive intelligence tools cited in this article, then please see below!
Alexa
Alexa.com is owned by Amazon. Alexa collects data from users who have installed one of their many browser toolbars and plugins. As these users surf the web, the toolbars collect data and transmit it back to the Alexa database.
Critics argue that Alexa collects data from only a relatively small number of internet users. They also argue that the data can be skewed by webmasters who install a toolbar on their browser and then visit their own websites repeatedly in the course of maintaining them.
SimilarWeb
SimilarWeb.com receives its data from 4 main sources. First, like Alexa, they have internet users who have agreed to transmit their usage information to SimialrWeb. Second, they collect data from Internet Service Providers in different countries. Third, they crawl the web, much like a search engine, to create a map of the internet. Finally, webmasters are able to connect their websites to SimilarWeb so the service is able to receive the actual traffic data.
Critics of the service argue that it either drastically overestimates or drastically underestimates a website's traffic. For example, one study found that SimilarWeb overestimated traffic for the study's cohorts by over 400%. Meanwhile, our own experience has been that the service dramatically underestimates our website's traffic. For the most recent month, SimilarWeb shows BluePipes with 27,000 sessions. We've actually had more than 50,000.
SEMRush
SEMRush.com is devoted strictly to measuring traffic that comes from search engines. Their system regularly checks search engine results for over 100 million keywords. Then, the system estimates how much traffic a website gets based on where they rank in the search results.
Critics of SEMRush argue that the service dramatically underestimates website traffic from search engines. However, this criticism is a bit misguided. The service is only measuring traffic for the specific keywords entered in its system. People tend to search in a fairly random fashion, so the service understandably won't be able to measure all search engine traffic.
The post The Most Popular Travel Nursing Websites and Who Owns Them – 2016 appeared first on BluePipes Blog.