Some Crazy Rochester NY Bed Bugs Stories
Being a Bed Bugs Rochester NY exterminator can be a difficult job. Check out the Top 50 Bed Bug City List to see if Rochester NY is on the list. A lot of what we do is inspect and treat for bed bugs but its also important to remember we deal with the public. Bed bugs can make anyone a little crazy and of course our techs have run into some crazy situations. I took some time to interview the guys (and girl) at our Rochester branch to see what the craziest stories they had were. Here's some incredible stories of what these guys ran into.
Bill – Rochester NY Bed Bugs Technician

"I was sent to an apartment that was complaining about bed bugs. The complex was an apartment building we took care of all the units and I oversaw the property. I hadn't had any complaints in a while, so I was shocked to hear someone had an infestation. When I got there, the property manager took me up to the unit. I'll never forget. He said, "we were waiting for you." The tenant was sitting on the mattress in the dark. There was just a little light through the blinds, enough to see what was going on the room. The mattress was stripped and had no sheets or pillows. Just an overweight man sitting on a stripped mattress in just his boxers. He had a mason jar and was picking bed bugs off himself and putting them in the jar. It looked like a Stephen King scene. The tenant had what looked like hundreds of bed bugs in the jar and kept picking them off. I know he was doing it to draw them out since they only come out on the dark and are attracted to his breath, but it was a crazy scene. I don't think i've ever seen this many active at one time during a day period. Hundred were crawling out from around the room and he was just picking them off. I'll never forget that scene for the rest of my life."
Mike – Rochester NY Bed Bugs Technician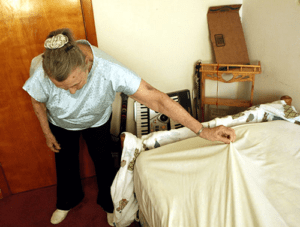 "I was called out to a home in Canandaigua NY for bed bugs. The story was that there was an older woman who had bed bugs living in the home. When I got there, it was a in-law's setup in the house. There was an attached apartment to the back of the regular house where they had their grandmother living. She couldn't get around very well and spent a lot of her time in bed. I don't think anyone really knew what we were dealing with until we got to the bottom of everything. Her nurse was there when I got there, and we started cleaning. Apparently, she had been getting ill lately and no none could figure out what was going on. Then they noticed bugs crawling around her bed and on her. When I got there, we started moving her and cleaning off the mattress. The whole place hadn't been prepped so I knew I was in for a long afternoon. We started going through the mattress and there were hundreds if not thousands of bed bugs in the seams. In fact, the mattress was filled with bed bugs. She had a mattress cover, but it had holes and wasn't a bed bug proof model. I don't want to get too graphic, but she wasn't able to fully communicate, and she had bites all up and down her legs and all over her body. It was a horrible situation. I couldn't get it out of my head for weeks. We cleaned everything up and I ended up going back to the house over 5 times in the next 3 months. We got rid of them but there was a lot of cleaning and prepping that took the family a long time. It felt good to help that old lady."
Steve – Rochester NY Bed Bugs Technician
"Even the cleanest people get bed bugs. The one job I walked into was like something from outer space. The owner told me the job was for a new customer that got bed bugs and they were like obsessive compulsive. He said to make sure I wore my booty's and was as neat as possible. When I got there, I rang the doorbell and the woman who opened the door was behind plastic. No joke they had plastic sealed off the entire house. It was taped over all the walls and the windows. They were trying to do their own heat treatment with an attic heater. It looked like something out of ET the movie. OK, these people had thrown out their furniture and we starting to pull up the hardwood floors. I've never seen anything like it. The bed bugs were turning their obsessive-compulsive behavior into overdrive. It took me an hour and a half just to talk them out of tearing all the floors up and digging into the walls. Over the next three months they text me every other day with questions, pictures and issues. We got them through it but it ended up being one of the most difficult jobs I have ever done.
Call Today! (855) GET-ENVIRO


If you discover bed bugs in your home, contact Enviro Pest Control for immediate relief. Our certified team is educated in the most advanced bed bug protocols and equipped with the state-of-the-art resources necessary for complete eradication of these pests.