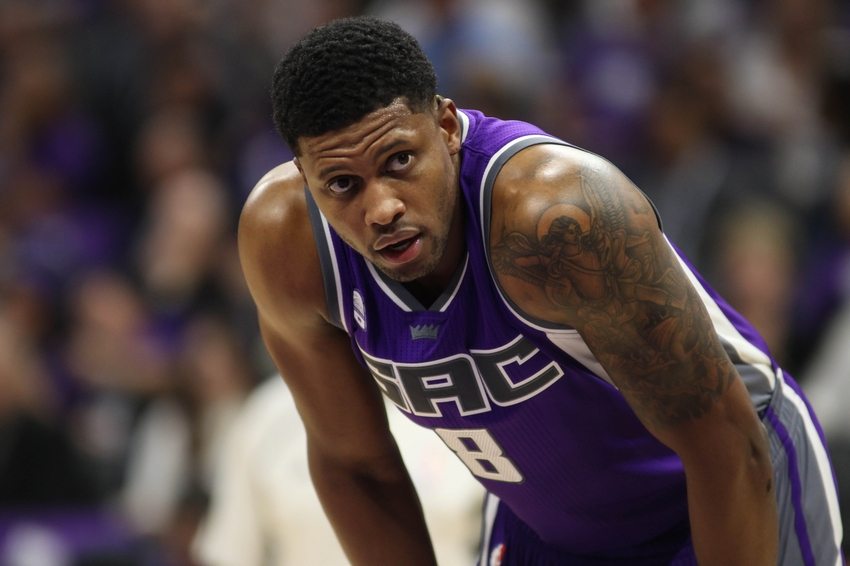 Sacramento Kings forward Rudy Gay has apparently suffered a Torn Left Achilles. He went down with the injury midway through the Kings contest against the Indiana Pacers on Wednesday night.
Here's a video of the incident.
Here's what happened to Rudy Gay.

Appears he went down with a non-contact leg injury, got carried to the locker room. Hope he's alright. pic.twitter.com/vBZXjMjWay

— Def Pen Hoops (@DefPenHoops) January 19, 2017
Prelim eval is that Rudy Gay tore his left Achilles tonight

— Jason Jones (@mr_jasonjones) January 19, 2017
The Kings just announced they fear Rudy Gay Suffered a torn left Achilles tonight. Further examinations are scheduled tomorrow to confirm.

— Marc Stein (@ESPNSteinLine) January 19, 2017
There will be an official MRI tomorrow, and we'll be sure to update you on his status.
Gay had previously stated his interest in opting out of his contract at season's end and finding a new home. The Kings have not made the playoffs since Gay arrived in Sacramento back in 2013.
He was projected to be a big name when trade deadline season begins. As far back as the preseason, Gay was a centerpiece in some negotiations, and apparently, a trade with the Thunder almost went down. Now, we might have to wait a very long time until we see Rudy Gay on the basketball court again.
The post REPORT: Preliminary Test Show Kings' Rudy Gay Suffered Torn Left Achilles appeared first on Def Pen.