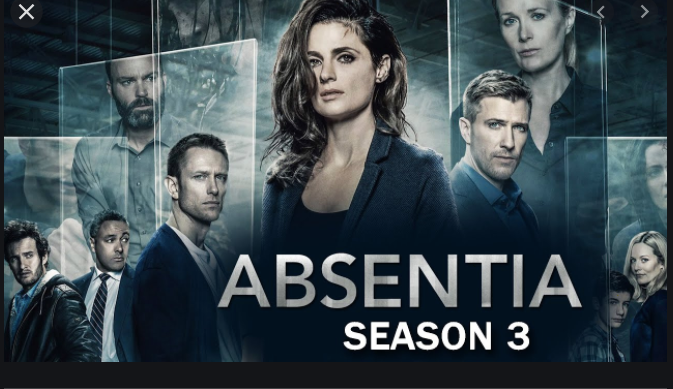 The third season of
Absentia
was up on Amazon Prime Video last month. I liked it the best of the three seasons so far because, well, I like James Bond type stories more than a vanished member of the family comes home after six years of missing, even if she is a high-powered FBI agent.
The new season picks up right after the second season ended, and quickly pitches us into international espionage and subterfuge, with a searingly all-too-currently relevant theme: the bad guys want to unleash a virus upon the world, with a view towards getting rich distributing an antidote which they also have in their possession. It turns out that
Emily
was missing for six years because she was kidnapped by this group, which also has other (maybe) related bio "research" at work, including (I think) developing some kind of super-warrior army they can use.
I'm putting in those provisos - "maybe," "I think" - because these connections are still not brought into completely clear focus. But that's ok, because the action is so quick and powerful you barely have time to think about the ultimate underpinnings. There's also an excellent development of characters, in Emily's family and beyond. In the first two seasons, her brother
Played
an important role. He plays a somewhat significant role again, but not as much as Emily's father Warren and her son Flynn, very well played by Paul Freeman and Patrick McAuley. Let's hear it for multi-generation de facto commandos!
Nick also plays a very different role in this third season, becoming the one who's kidnapped, in
Absentia
, pursued relentlessly by Emily. She's helped by Cal, a not completely trustworthy partner, at least not by Emily, but very effective fighting for her and alongside her. One of my favorite scenes is how the two get the drop on a group of brutal bad guys and throw them off a hurtling train in the middle of Europe. Stana Katic is just great as Emily, as is Patrick Heusinger as Nick and Matthew Le Nevez as Cal.
Speaking of Europe, most of the action takes place in Austria and Germany, and the combination of that and the labs filled with experimented-upon bodies adds a definite Nazi flavor to this. I found that both appropriate and a welcome departure from ISIS or Russia being the root of the villainy. Indeed, immigrants from the Middle East are preyed upon by the nefarious bio-tech operation, and they emerge as heroes in this story, with Rafiq (well played by Adam Hussain) working with Nick and Emily to free his mother and the other prisoners from the sinister labs.
I give Absentia 3 my highest recommendation, for its non-stop action, social relevance, human relationships, and espionage puzzles. And back to that Bondian quality that I like: it even has a memorable villain enforcer, Dawkins, played just right by Geoff Bell.
See also Absentia: In Your Face and Worth Watching ... Absentia 2: Even More There than the First Season