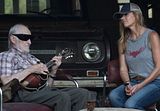 Hey, I know it's not the usual kind of show I review here, but what I can say, the music is great, and so are most of the storylines and all of the acting. And, in its
Sneak Preview
of a new season on a new network - CMT -
Nashville
looks to be as good or even better.
First, the feel is a little more cinematic and a little less soap-operatic, which I take as a good thing. Rayna is traveling though some town on her own at beginning and the end of the episode, and there's an old, blind guy a gas station singing "Wayfaring Stranger," a real folksong from the 19th century. (I used to sing a doo-wop version called "Travelin' Stranger" in the alcove at CCNY in the early 1960s.) It's a great, plaintiff song, and it captures the new
Nashville
mood perfectly: serious, moody, but not gaudy.
Juliette didn't die in the crash - everyone has to know that, by now, or figured that it would be that way - but her near death will make her an even deeper character (and have the same effect on Rayna, who has always been linked to Juliette in some soulful way). Juliette was deepening anyway in the previous season, but now she's also back with Avery, and their baby, which promises a good story ahead.
Gunnar and Scarlett are also together now - great to see - and although they didn't sing anything in the first episode, they spent lots of time with Maddie and Daphne, who sound more like angels than ever. And sounding like an angel is a theme of this 5th season debut, as Juliette finds the angelic voice who kept her alive after the crash.
So, yeah, I'm really glad
Nashville
got rescued by CMT, and happy they put up this sneak preview - the first hour - of the proper two-hour premiere of the 5th season of Nashville which wel'll see in early January.
And I'll be back here much sooner with reviews of my more usual fare -
The Affair
,
The Man in the High Castle
second season, and the Nordic Noir masterpiece,
Dicte
.
See also Nashville in New York City: Reality Even Better than Fiction