Falling in love with an African American man can be beyond words rewarding. The relationship that you share with an African America man can be insightful, deeply engaging, nourishing and long lasting. So, why aren't more African American women enjoying these relationships?
Rolling Relationship Dice
For starters, romantic love seems to just happen. You weren't trying to fall in love. In fact, you may have sworn off joining in love with another person. And yet, it has happened.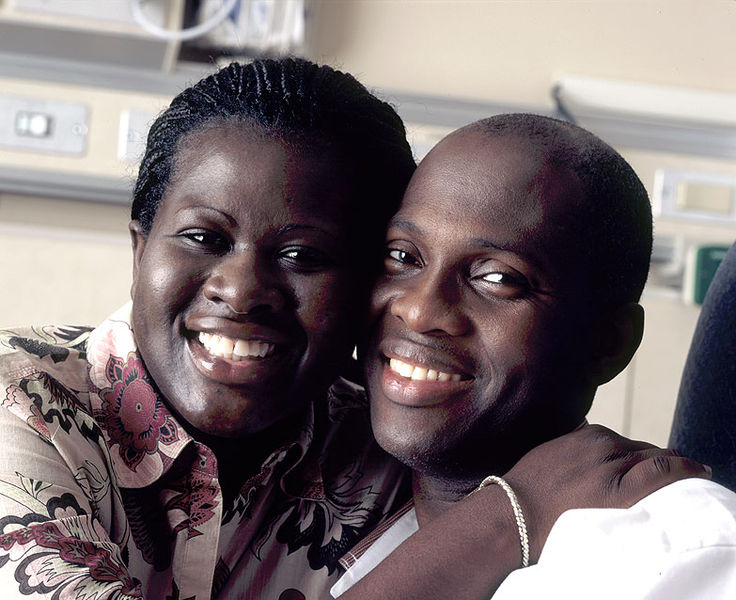 Wikimedia Commons Picture
Feels like rolling relationship dice. What you do now could impact your relationship for months, years. You could do yourself a favor and not give meaning to what the man you just met does or says. After all, if the feelings are mutual, this gorgeous African American man could be trying to woe you.
He wants you just as you (although you may hate to admit it) want him. He may tell you what he thinks that you want to hear.
Instead of giving meaning to what he says and does as soon as you two meet, consider becoming an observer. Allow this African American man the room to be himself. Avoid steering him with judgment, praise or compliments. Observe and watch where his inner compass is headed.
Romantic Relationship Curiosity Pays Off
Consider holding back on placing a goal on the relationship. After all, you two just met. Just because strong emotions have erupted from within you doesn't mean that the relationship has to end in marriage. If you think back over other times that you've been an African American Woman in love, you might see how beneficial observing without judgment or goals could be right now.
As strong, smart and insightful as you are as an African American woman, that doesn't mean that you and the wonderful man who you met don't have baggage to let go of. It doesn't mean that you and the man who you met don't have Childhood Trauma to work through.
Curiosity in what could become a blooming romance may allow valuable insights from this African American man and you to surface. As a smart African American woman, you may find that it's best to work on your communication skills, patience, forgiveness and absolute honesty with yourself before you advance further into the relationship.
As an example of this could be allowing the man to be himself and observing him cutting off department store customer service representatives and swearing at waiters who make mistakes with your dinner orders, and deciding to observe if this African American practices self-awareness. If he practices self-awareness and he's loving, he should catch himself and change his behavior all on his own.
Another example could be you saying Up just because he said Down or you saying Right just because he said Left. Be honest. Have you done this in other relationships? Are you afraid that you will lose something, perhaps yourself, if you are agreeable? Think about working on this communication habit before you advance the relationship. Your decision could save you headaches down the road.
Both of these examples are instances when you accept what is. You don't rationalize, ignore, hide from, lie about or try to explain away what is happening. You observe and accept what is. There are instances when observing what is may show you that, if you want to love yourself, you have to leave the relationship and move on. Domestic violence, verbal, sexual and financial abuse are definitely signs that it's time to move on.
Moving Beyond Childhood Trauma
If the relationship proves worthy, just because you accept what is right now, doesn't mean that you have to stay in a bad place in your relationship. Facing what is means that you've decided to stop hiding, ignoring or rationalizing hurtful and negative aspects of your relationship.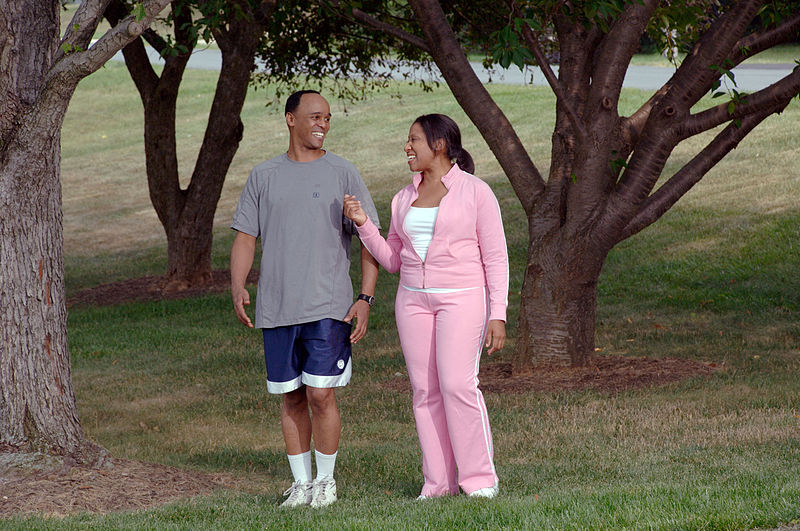 Wikimedia Commons Picture
You're an African American woman who's investing in herself and the beautiful African American man who you love. As unsexy as it may sound, you realize that this may be a perfect time to start moving beyond childhood trauma. This is what Brenda decides in Love Pour Over Me. But, Brenda is young (in her early 20s) when she meets Raymond, an incredibly gifted and loving African American man.
Brenda's not curious enough. She's also scared of being hurt. She scared of disappointing her family by choosing the wrong man to share her physical experiences with. You can learn from Brenda. There's no need to repeat her mistakes. You don't have to let years pass before you start working on childhood trauma.
Childhood Trauma Signs
Temper bursts and behavior that catches you or the African American man who you're in love with off guard (as though you or the man have no idea why you said or did something) are signs that you may have childhood trauma to move beyond. Being shocked by things that you say or do may be a sign that there's a part of your mind that's out of your conscious awareness. Shutting down emotionally or abruptly ending communication with people you love, people you know care for you, are other signs that there may be childhood trauma to work through.
Unexplained irritability, fatigue and worry are other potential signs. The relationship is new. The man or you could be triggering past memories that one or both of you have been running from for decades, just as Raymond runs from his childhood trauma.
This is when your budding relationship could be a gift. Consider not forcing your relationship to fit into an image or fantasy that you've been wanting since you were a kid or a young adult. Stay curious and allow the relationship to unfold organically. (Warning: This might be harder than you think.)
Invest in Personal Awakening
Should you become aware of childhood trauma in yourself or the African American man who you love, invest in personal awakening. The man will have to invest in his own personal awakening. You can't make this decision for him. If he doesn't choose to do this, consider moving on. You should always be advancing.
Taking time each day to be still and remember the Creator, is a key way to invest in personal awakening. Drinking plenty of fresh water, exercising, getting ample sleep and treating yourself to nature stays (e.g. outdoor walks, bike rides, reading good books while sitting outside on the porch) are ways to invest in personal awakening.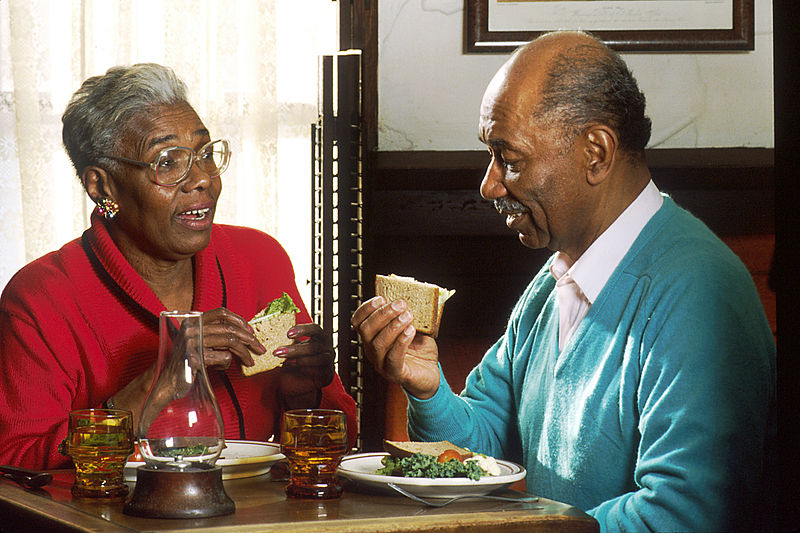 Wikimedia Commons Picture
Keeping a journal, writing down your dreams, meditating and listening to soothing music are other ways to invest in personal awakening. Being honest with what you feel and think may be at the top of the list of ways to invest in personal awakening. Above all, do not lie to yourself even if the truth means that this marvelous African American man and you are not ready to enter a romantic relationship.
Ongoing Support
Be patient with yourself whether you're an amazing African American woman who's moving forward with this relationship or an amazing African American woman who's letting this new relationship go. Overcoming childhood trauma can be a step-by-step process than could take decades.
Ask for help should you get stuck or feel like you can't get through trauma on your own. There may be no greater act of loving yourself as an African American woman. Support may come in the form of discussion support groups, counseling or therapy with a licensed psychotherapist. Should you choose this path, consider working with a licensed counselor or therapist who has completed deep therapy herself. Avoid receiving treatment from a counselor or therapist who is unhealed and not consistently working on herself.
After all, we are all awakening. If you're looking for a book that shows an African American woman and an African American man working through childhood trauma and investing in personal awakening, consider Love Pour Over Me.
It is my hope that Love Pour Over Me will help you as you work through childhood trauma. Love Pour Over Me tells the fictionalized story of a talented athlete who was abandoned by his mother and left to be raised by an abusive father who has untreated alcoholism. Raymond, Brenda, their family and friends are people you will remember, and hopefully, for all the right reasons.
Get your copy of "Love Pour Over Me" Now
The post
Falling in Love With an African American Man
(Inspiration) appeared first on .