In a sudden turn of events, Akshay Kumar has found himself in the plagiarism row with his latest release, Pad Man. While Akshay's intention was to only educate the masses by narrating the inspiring story of Arunachalam Muruganantham, who introduced low cost sanitary pad in rural areas. This certain writer named Ripu Daman Jaiswal has now issued a statement accusing the makers of Pad Man for lifting his story which he had written one and half years ago. He's also shared a Facebook post with screenshots of his script that he had sent to the creative head of Dharma Productions a year and half back but failed to receive any response from them. Now that the film has hit the screens despite his plea, he is left with no choice but to get legal help.
The young writer, who Filed a complaint against Kumar and wife Twinkle Khanna, appealed through yet another Facebook posts a couple of days back saying, "I have just filed a police complaint – I have no money to hire a lawyer. I went to the association and told them that my work has been copied but they said I do not have enough evidence." He went on to claim that someone is yet to contact him following the FIR he filed at a local police station on January 23, 2018. "The senior police inspector told me that they will do an investigation and will revert back to me via phone call. I am still waiting for that call."Here, check out his Facebook posts below: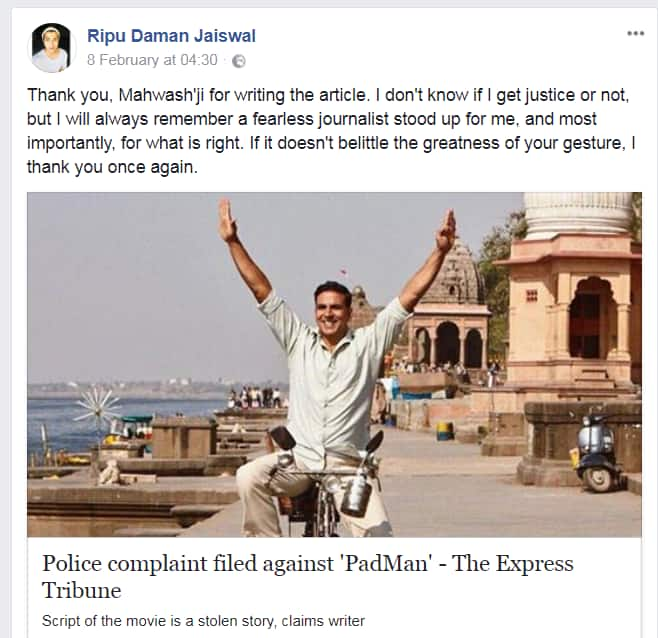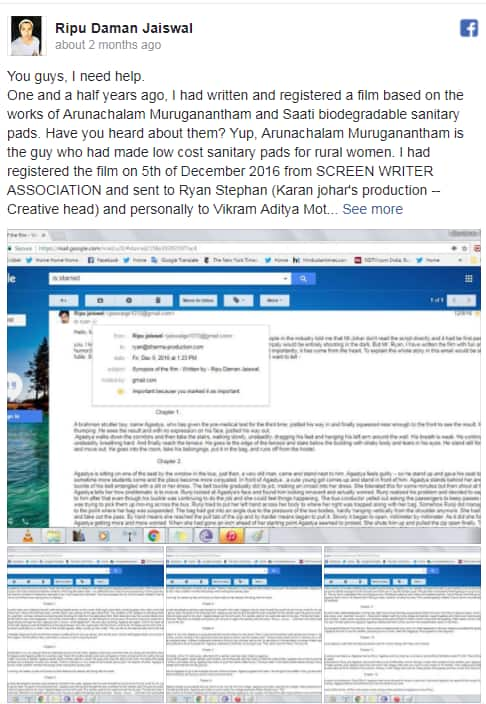 Jaiswal argues that the similarities between Pad Man and his script is too hard to not notice as he spoke to Express Tribune and said, "The similarities are not only based on the concept but also my fictional scenes. If you see the trailer, there's a scene where Akshay Kumar gives the sanitary pad to his sister – that's my fictional scene; something I created out of the figment of my imagination. In reality, Murugunatham does not have a sister. So, if you are writing a film based on his life, how can you use fictional scenes which have previously been registered by me? There are also similarities within the plot. In my script, the lead character's wife falls pregnant and due to some complications, she has to be taken to the hospital. I saw that same scene in the making of PadMan, online. The Sonam Kapoor character in my plot is a journalist, I think that's the only thing they have changed and made her a medical student or something."
It's left to see how will the makers respond to Jaiswal's allegations. Will Pad Man be dragged to court? PS: In case you aren't aware, Pad Man is winning a lot of positive response from the audience for touching upon such an important subject. The need of the hour, is what everyone are claiming it to be. Let's see what destiny holds for Pad Man. Until then, stay tuned to this space for more updates on this story.