Dear Bollywood,
I don't know if 'dear' would be a proper endearment to use here, considering how we haven't really been pals ever. But cliches are your thing, no? After all, you have made one out of me. How happy I was, being the iconic bear, adored around the world, before you turned me into a gimmick and reduced me to a piece of fluff that can be thrown around. But I am sure, you would feign ignorance like you always have – all under the pretext of creative liberty. How would you remember the tortures you have subjected me and numerous other stuffed toys to. Hence, today, on the occasion of Teddy Day, I write to you with Evidence. Let's jog your memory then, shall we?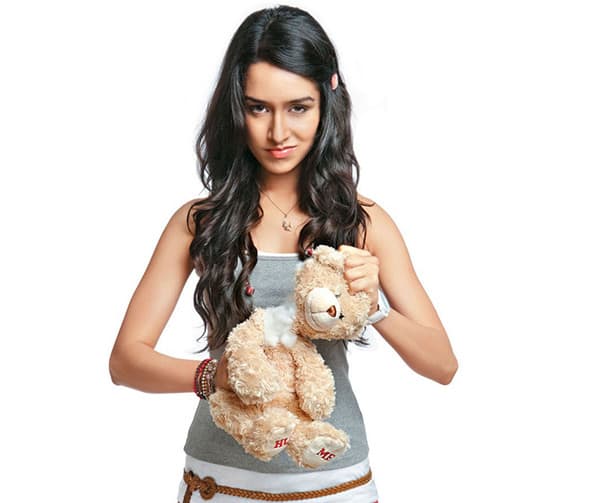 Let's start with picture evidence, number 1. This barbaric girl here has mercilessly murdered one of my fluff friends and looks entirely unapologetic about it. Poor Johnny boy didn't even see it coming. He had no idea whatsoever that this seemingly innocent looking girl would be such a heartless monster that she would rip his guts outs. And for what? Just because the Film was called Love Ka The End? Why should my dear friend die? He wasn't even called 'Love' for you to end his precious life!
Now for picture Evidence Number 2. Just look at this image here. You are propping us up on pillows and squishing us in your arms. For what joy? Just because we are cute, doesn't mean you can objectify us! Poor Scooby couldn't even breathe all the while the girl was shooting thanks to the manner in which she held on to him and Shaggy, sitting right behind them, could only stare in horror. What kind of a world is this where you don't think of us, mere fur balls?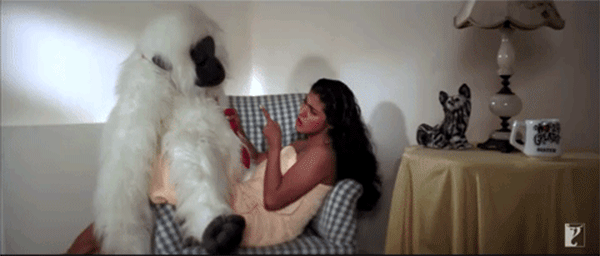 Now, it's time for some video evidence. Here you will be able to see the violence we are subjected to, day in and day out. So you see, Appy was made to sit on this actress' lap without his consent. That's still okay, right? But see what happens next. She goes on to mercilessly poke him right on the nose, with a mischievous glint in the eye and then proceeds to hold him by his tie and strangulate him – all while singing some ditty about finding the man of her dreams. Heck, if this is what she plans to do to him, may she never find him. Otherwise he, too, would just be as traumatised as my ape friend here was.
Here's video evidence number 2. Just look at how the girl in this video is using Mr Cuddles to fend a punch from the guy. I mean, what is wrong with you guys? Girl, your fluff friend was present there for you to cuddle up to. Why would you date a guy who gets violent and then get your poor and innocent friend involved to save you? Do you know Mr Cuddles still has trust issues? Well, you would, had you not shunned him so!
This video evidence gives me the creeps. We can't even let the little ones watch it lest it affects their psyche. Just look at how terribly you are treating Bugsy in this video. His expression says it all. Not just squished and mauled by two satin-clad, happy high girls but also manhandled by them. Please look at the way they tug and pull at his ears. Do you even know that post this, he was never seen around here again. Some say he was admitted to the mental asylum while others claim that he turned into a serial killer who went on a killing spree while singing the same number as the chirpy girls did, right into his ears.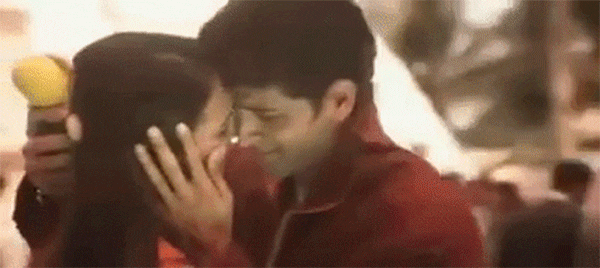 And this, here, is what I call a classic case of forced participation. Okay, I get it. You have reunited with the love of your life, blah, blah, blah. Why should I hug your beloved's hair, while being manhandled by you six feet above ground? I don't even have insurance, for Christ's sake! And just what do you think happens to me after you are done with your love story? Would you invite me to your wedding? Will I be a part of your honeymoon? Or will I only be remembered when you decide to make a sequel to the film and have the couple's kids rip me apart? These are the thoughts that keep me up at night.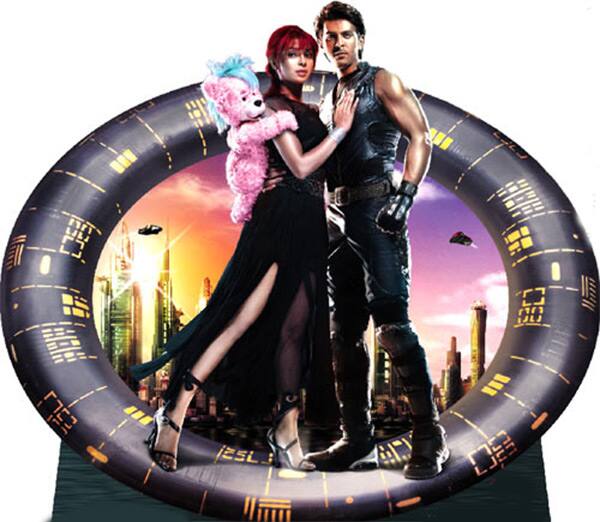 And I would like to rest my case with this image of an apocalypse. This film was set in 2050 and our representative in the film, Pinky, could even talk in the human language then. However, the torture still continued. The horrible manner in which Pinky's hair and make-up in this film was done, confirms the fact that nothing is going to change, ever. We will continue to be arm, or in this case, shoulder candies, even 30 years down the line. Unless things change right away. You, Bollywood, can change it. Please help make Pinky a mentally stable teddy bear, who wouldn't have to live under the fear of being ridiculed on screen. Then, perhaps, we will be friends.
With love,
Your friendly neighbourhood Teddy Bear