For all Shah Rukh Khan and Aryan Khan fans, here's some good news. The Dilwale star's son, Aryan has beaten Chunky Panday's nephew, Ahaan in the swag department. BollywoodLife had conducted a poll few days ago to figure out as to which star kid has a sexier swag and guess the results were pretty clear. Aryan enjoys enormous popularity, thanks to daddy dearest Shah Rukh Khan and it won't be wrong to say that his victory was a bit predictable. The star kid is hugely popular with all the girls out there and Ahaan, on the other hand, is taking his own sweet time to touch the same popularity. While Sara Ali Khan and Janhvi Kapoor will mark their debut in the industry this year, Ahaan and Aryan, too, are supposed to join them in the next few years. Though these boys share a great camaraderie and their social media accounts are a proof of that, there's always a bit of competition. We love Ahaan's charm and Aryan's attitude, and it's hard for us to call our dibs and pick the best of them. That's where you folks come in the picture and help us come to a conclusion. Also Read: Shah Rukh Khan goes the Aryan Khan way with his latest selfie
What we assumed to be a tough competition and a nail biting race, turned out to be a one sided affair with Aryan emerging as the clear winner. SRK's darling son managed to win this race with a record 63 per cent votes (that's more than half), followed by Ahaan with 37 per cent. Now obviously, Aryan is a more known face and that automatically makes him more loved. But Ahaan, too, is taking all the necessary steps these days to be a socially relevant icon. His numerous event visits and even a photoshoot in his kitty already are a proof of it. While Aryan and Ahaan have been childhood buddies, competition will be stiff once they enter the profession and this poll was just a feeler to see where they stand in terms of social media fan following. Ahaan clearly has a long way to go but we are sure he will manage in due course of time. Also Read: Aryan Khan teaches Ahaan to get a pic right without smiling but who do you think is owning it?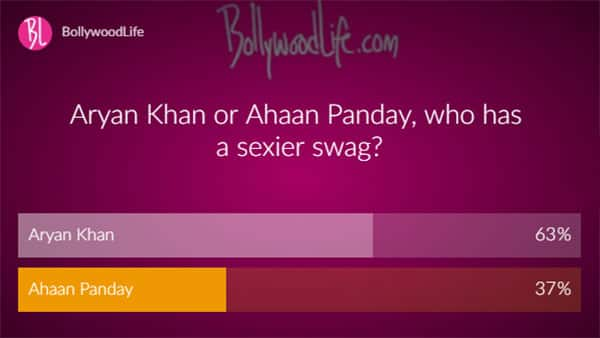 We hope Ahaan buckles up after this one loss and ensures that history can't be repeated this time. This vote was just a small drop in the sea and here's hoping that we get different results next time.