Anushka Sharma and Virat Kohli got married on Monday at a private and intimate but a luxurious ceremony in Italy. The internet had a collective meltdown as more and more information, including pics and videos started surfacing. We have seen the pictures of the Wedding venue, the bride and the groom taking part in the nuptials, and so much more. We now have one more picture to gush over. A click of the wedding invitations sent out by the two celebs to their guests is going viral.
Anushka and Virat got married at a small countryside resort located on the outskirts of Tuscany, Italy. The resort, though luxurious, could only house 44 guests at a time. So, you know that the guest list of Virushka was extremely limited to the closest members of the families. And of course, the wedding invitation that was being sent out to them had to be extremely special. This might not be the lavishly decorated and filled wedding invite hamper like the one in Yeh Jawaani Hai Deewani, but it sure is way more thoughtful and romantic. ALSO READ: Anushka Sharma-Virat Kohli wedding: 5 details you might have missed out on while mooning over the beautiful couple
You see, Virushka decided to send out a plant sapling to all their guests along with the invitation card. In fact, the invitation acted as a planting pot for the sapling. Check it out here: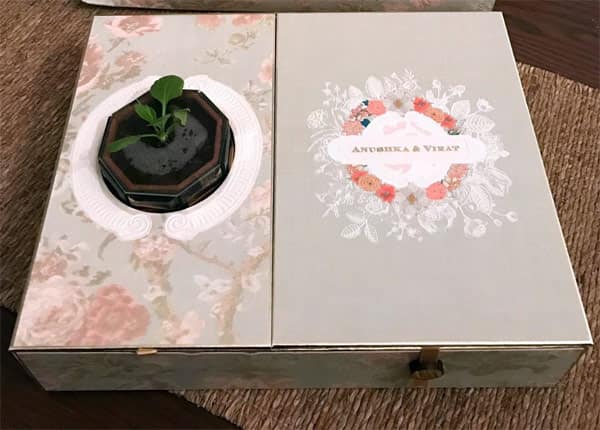 There is a bleak chance that the idea for such a wedding invitation card came to Virat and Anushka when they were in Sri Lanka in August, this year. Remember? Pictures of them planting a tree there went crazy viral on the internet! Now, that is just a wild guess, so don't blame us if this incident is not the inspiration behind the innovative wedding invite.
Couple Goals! ❤️
Anushka and Virat have left for their honeymoon in Rome.