Rishi Kapoor should just stay away from Twitter or any kind of social media platform. The sense of entitlement that he feels while abusing others by DM-ing is really disturbing. Anybody who takes an offence to his toilet humour is subjected to disgusting language on direct messages. The same happened with RJ Sucharita Tyagi. She didn't find Rishi Kapoor's pun on Beyonce's pregnancy funny enough. But instead of taking it sportingly, he called her 'screwed up' on private message.
Also read: Amitabh Bachchan and Rishi Kapoor's dedication leaves 102 Not Out director floored
Rishi Kapoor shared an image, where a pregnant Beyonce in red has been compared to a flower vase of the same colour. Some found it funny, but others didn't think it was anything to laugh out loud about. Sucharita was one such Twitter user. So she quoted his image saying, "Not funny." That's it! Like always, the hot-headed Kapoor lost his cool and called her face funnier. Sucharita shared the entire conversation on her Twitter account to tell the world that Rishi Kapoor can make jokes on people publicly but doesn't have the guts to call out people publicly if he doesn't think they are right.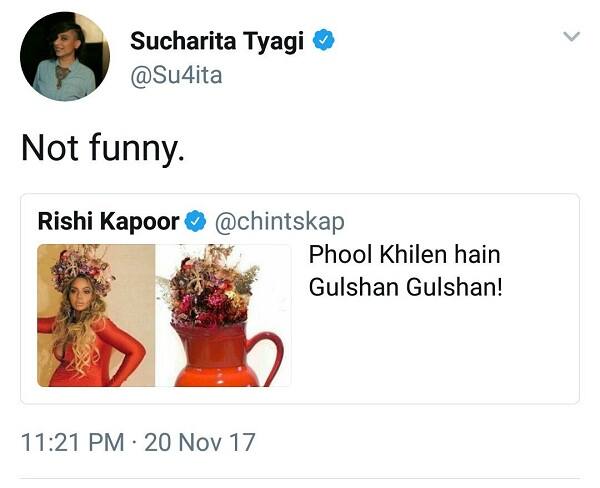 What a day I'm having. pic.twitter.com/fQSJnzPhrh

— Sucharita Tyagi (@Su4ita) November 20, 2017
Rishi Kapoor had earlier DM-ed a women 'F**K you, b***h' on Twitter when she took a sly dig at his family including Neetu Kapoor and Ranbir Kapoor. People on Twitter wanted to lodge a complaint against him for not having any manners. Now he did this and this time Twitter is blaming it on the alcohol.
He is body shaming pregnant @Beyonce ! Imagine HE is bodyshaming THE BEYONCÉ
like where is the the Beygency when you actually need em?
( he hasn't deleted the tweet)

— Prashant (@pcytotoxic) November 20, 2017
Now sharing this ….. pic.twitter.com/kps01ZOrF5

— R Jain (@des2videsh) November 20, 2017
Kitane Hue, 2 Ya 3…. Peg?

— Ziya (@im_ziya) November 20, 2017
Shame on u… seriously …. doosro ko aukat dikhata hai apni aukat bhi dikha raha hai…. ghatiya insaan…. no wonder tabhi apne bete se nahi banti hai iski…. pregnant aurat ka mazak bana raha …. teri maa bhi kabhi aasi hui hogi jab tere jaise ghatiya insaan ko janam dia..

— ananya (@ananya60777) November 20, 2017
Lagta hai aapko desi jami nahi sir…
Videsi hi thik h aapke liy…
Or aap hamesa peg maar ke hi twitter pe kyon aate ho…?

— Suraj Kumar (@mjerryi) November 21, 2017
Rishi Kapoor, high time you grow up. It's not so tough, you see!