Have you ever been attracted to someone who sends shivers down your spine? If not then brace yourselves for you're definitely going to fall hard for Kangana Ranaut's deadly look as she walks the ramp for Manish Arora. The actress, who recently returned from USA after wrapping up Hansal Mehta's Simran, has already started grappling attention from the paparazzi. For quite a while now we've been going gaga not just on her sassy remarks but also her fashion outings. The diva can literally slay any look and give the fashionistas some inspiration. Recently, Kangana closed the famous Blender's Pride Fashion Week looking dangerously sexy as she walked for designer Manish Arora. (ALSO READ – Deepika Padukone, Ranveer Singh, Kangana Ranaut – meet the best dressed celebs of the week)
The green and pink hued combination the designer chose for his showstopper may seem a little too dull for the diva but she sure nailed the look. The lehenga donned by Ranaut was neatly embellished with mirror work. The look needed no accessorising for the sequins and mirrors did the trick. Personally, that colour is what I see when I'm nauseous but Miss Ranaut made it a winner without much efforts. Not to forget how the hair game was styled to look viciously sexy. I think she earned a few brownie points right there. Plus, the bomber jacket on this bridal ensemble just further accentuated the cool quotient.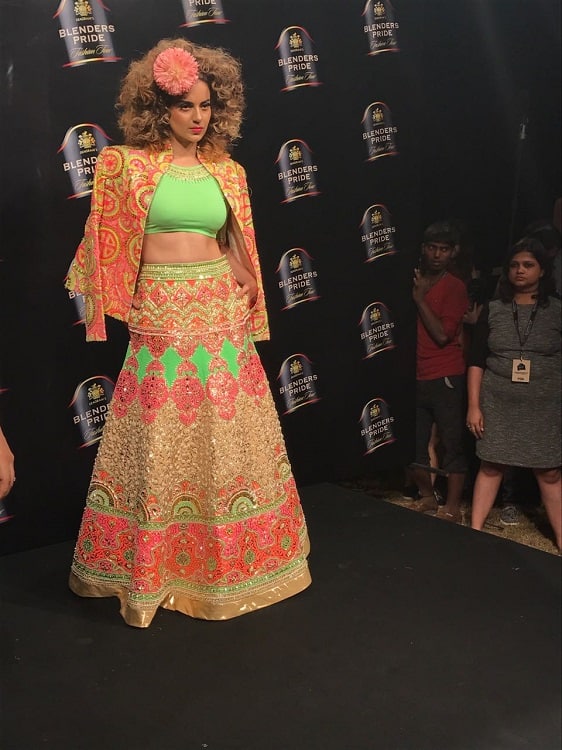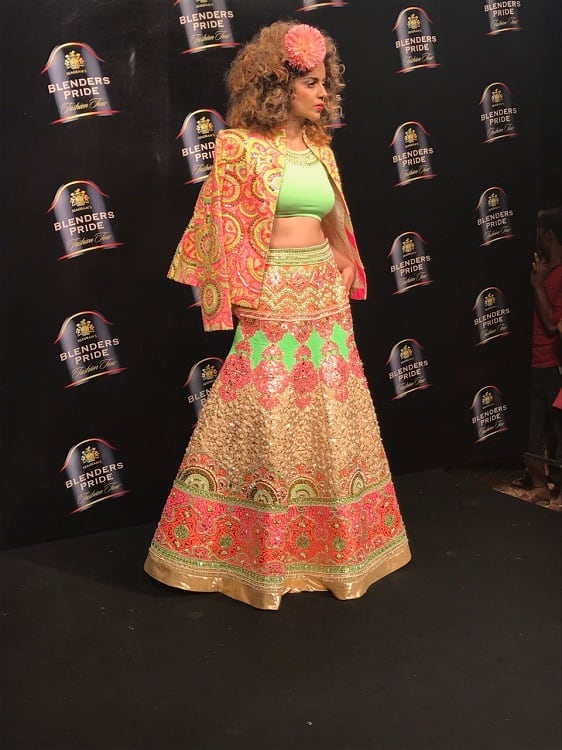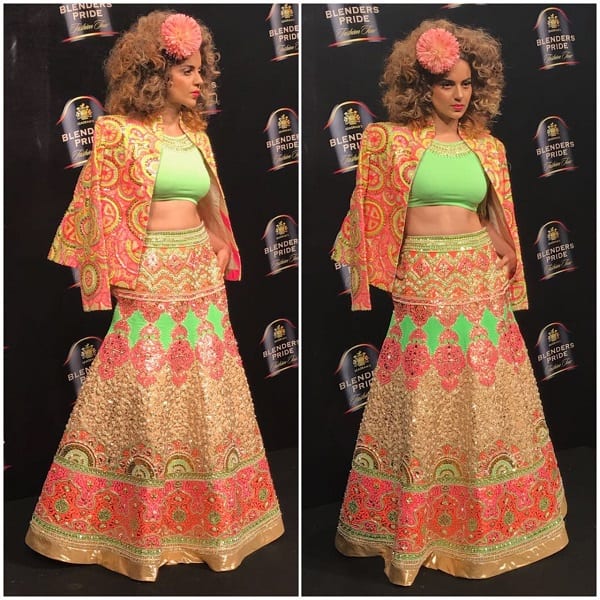 Maybe if she loosened the big flower on her head it would've been more eye friendly. With the flower on her head, it just gives me the creeps as if I'm seeing a scary bride. Apart from that, I don't think there's anything that makes this look seem any less. Since Kangana has returned from her US trip, we're gonna see a lot of fashion outings from the diva. Like always, she has never let us down and hopefully her successful stride as the most chic and cool fashion diva in Bollywood continues.
What are your thoughts on this look, BollywoodLifers? Like it? Yay or Nay? Tell us in the comments section below. And do stay tuned to this space for more gossips and latest updates.
Prev Next
Kangana Ranaut spotted at Bandra hiding her face

Kangana Ranaut was spotted Bandra, Maybe she was there for an outing or to meet a friend? But the thing is to be noticed is why is Kangana hiding her face with her scarf? Aren't you curious to know?

Image credit: Yogen Shah

Kangana Ranaut gave a broad smile to her fans

Soon the scarf was away and we saw Kangana Ranaut smile, a BIG smile. We couldn't keep our eyes off her mirror reflector aviators which she suited like a boss!

Image credit: Yogen Shah

Kangana Ranaut's looked stylish AF in her BOHO avatar

Kangana Ranaut was seen in a blue 3/4th length dress. She paired her look with a beige colored scarf, black boots and blue mirror reflectors aviators. And she was looking ON POINT in her BOHO look.

Image credit: Yogen Shah

Kangana Ranaut was unnoticed on the streets of Bandra

Kangana Ranaut in her BOHO look was spotted on the streets of Bandra. It seems no one noticed our 'Tanu'. How is it possible? Right? But that's what you can make out from the picture.

Image credit: Yogen Shah

Kangana Ranaut loves to munch while travelling

From all of this we could make out that Kangana Ranaut loves to munch while she is travelling as it is clearly visible in the picture. Her car's place has a munchies box for her. Aww..

Image credit: Yogen Shah