Put ten collectors in a room and ask them why they collect and you'll get ten very different answers. Some spend their lives searching for totems from the past—reminders of childhood fascinations, icons of our shared cultural memory. Others seek to capture life's milestone moments in physical form; each new acquisition becomes a monument to personal progress. Others, still, are motivated less by the temporal meaning behind their collectibles than the physical qualities of the objects themselves: the processes through which they are made, how they look and feel, and what they can do.
For Parisian collector and Creative Director Gauthier Borsarello, it all comes down to quality. Following the thread of his own personal collections will take you on a journey through ever-increasing stacks of Levi's 501s, impeccably faded selections of throwback band t-shirts, spine after spine of Vintage books and magazines, and a growing assortment of rare furniture and interior design pieces. Perhaps we're biased, but it's Borsarello's watch collection—an eclectic mix of vintage and modern, luxury and mass-market, all collected to be worn—that brings his philosophy into focus.
Just like his personal collections, Borsarello's career and creative vision straddle the line between vintage and modern. His vintage showroom Le Vif brings classic Americana to Paris's 16th arrondissement. The casual menswear magazine he co-founded, l'Ettiquette, brings everyday elegance to contemporary men's fashion. And as Creative Director of French retailer Fursac, he's about to bring accessible, modern Parisian style to the world.
For Borsarello, collecting is not driven by an obsession with the past, but by a never-ending quest to acquire the best. "Steve McQueen, Paul Newman, the astronauts who went to the moon, they didn't wear vintage Watches. They didn't drive old cars," he says. "They wore and drove the best of their time. I only buy vintage when what I want doesn't exist anymore."
We visited Gauthier in his new flat in Paris to talk about timeless style, vintage Levi's, and the perfect dad watch.
When did you first become interested in fashion and style?
At a young age, going with my father to the flea market every weekend. He was always searching for 18th and 19th Century French furniture. He taught me how to look at objects; the materials, the quality with which they were made, and how to distinguish whether a piece was from one era or another. He hates clothes, but style was a growing passion for me at the time. And coming from a family of classical musicians, as one of six children, there wasn't really money for clothes or "futile" things. So I had to connect my father's passion to mine so he would buy me clothes at the flea market. I started with militaria, showing my dad well-made clothes, made for a functional purpose, with a direct link to history and for a fair price. I tried to find the culture in the clothes so he would buy them for me. My mother has always sewn at home, making patchwork pieces and clothes for us when we were kids. She would repair, hem, and even weave fabric on the manual looms we have at home.
How has your taste evolved?
It evolves everyday. My only rule is quality, but I explore everything all the time. Skate, metal, streetwear (not much quality there, though), tailoring, bespoke pieces, Americana, French workwear and more. I love it all.
When did you first get into watches? What was your first major watch acquisition?
At the flea market with my parents, there was a watch dealer there every month. He taught me everything I know about watches and how to look at them. My first "good" watch was a 1970s Yves Saint Laurent. It was mechanical, extra thin, gold plated but even the back had thick plating. It was good quality. My house was broken into years later and it was stolen. I had a Speedmaster, a Breitling Chronomat and some other cool watches at the time. I was only sad about the YSL, my parents had given it to me for christmas.
Can you tell us about some of your favorite watches in your collection? What stands out to you about each piece?
I have some sentimental watches; my Rolex Explorer II was a gift for my 30th birthday from my wife and all my friends. It has a big 30 engraved on the back. I really like this model and I don't understand why it is not more popular.
My Piaget has a funny story, I found it in December, sent it to my wife to ask what she thought about it. I had already negotiated with the guy and was ready to buy it. Suddenly the listing disappeared. I got mad and wrote to the guy super upset. He said, "Sorry someone was faster." That year, I opened my Christmas present from my wife and she had bought it for me. She called the guy and said, "My husband will try to force you, but be strong. Sell it to me please, he will be so happy on Christmas." And I was.
My engraved Rolex Submariner came about as a joke. When I bought it, I said to my friend at Rolex, "I think buying watches as an investment is vulgar, it takes away from the personal pleasure and you don't feel like it's yours. It's like you're living in a hotel instead of your home." So I had "NOT FOR SALE" engraved on the back. The pleasure of watches is to live with them, to enjoy them. Buying them with the intention of selling them makes no sense to me.
Like many other collectors, The Rolex Daytona was my dream watch. I went to Rolex to get a watch for my friend Marc Beaugé, and I asked to try on the Daytona Ceramic. I fell in love immediately. Perfect proportion and balance, an amazing watch. I bought it right away.
I am not a huge fan of my Speedmaster, even though it's perfect in every way for me. It's iconic, well-made, not too thick, no date, perfect proportions, and has simple colors. But, like the Cartier Tank, it's almost too easy. But I wanted one for my collection and I wanted it to be rare and special, for the nerd only. Mine is a Speedmaster "Straight Writing", it wasn't produced for long. It's in perfect condition. I like to wear it with a simple monochromatic outfit every once in a while. It's a great watch.
The Swatch Jellyfish is a fun watch that I always wanted. But the vintage ones always look a bit yellow or are too expensive, so I jumped on the re-edition they just made. It's a very cute and cool watch.
To me, the Patek Philippe Ellipse is one of the best watches in terms of design. It's perfect. Though, I only like this version with the textured dial and the roman indexes. It make it easier to wear with a white tee and jeans or a suit and tuxedo.
Left: Patek Philippe Ellipse on a rare 1950s Jean Touret & Les Artisans de Marolles "Rooster" Lamp
You typically prefer no-date watches, like the Rolex Oyster Perpetual and the no-date Sub, why is that?
Because I have a lot of watches, and setting dates is a pain [laughs]. Also because I think a watch looks less balanced with a date on the side. I only like dates at the 6, but they are rare, and not on beautiful watches most of the time.
Are there any moments or memories from your life that you associate with a particular watch? Can you tell us about those stories?
It might sound cheesy but when we went to the hospital for the births of my two kids, I went with my newer Rolex each time, to make sure I could give them a bath without thinking, "Oh, does my watch go underwater?" I started to like new watches, when I became a dad. They're solid, waterproof and reliable. It's good to not have to think about your watch when you play with your kids or give them baths. New rolexes are the best for that. It's just the best dad watch [laughs]. Who wants a dad who says, "Oh not, don't climb on me, I have this rare fragile watch on today!"
Tell us more about your "Not for Sale" Submariner. What does that mean to you?
A watch is not an investment, it is for pure pleasure for ourselves. That's the way I see it. A watch fulfills a purpose. I like when objects do what they were made for. An old car that is fragile and doesn't start in the morning is nonsense to me. A watch that doesn't keep time and is so fragile you are scared every time you wear it is nonsense to me. I see no charm in an object that's lost its function. If you want something just to be beautiful, buy art. Steve McQueen, Paul Newman, the astronauts who went to the moon, they didn't wear vintage watches. They didn't drive old cars. They wore and drove the best of their time. I only buy vintage when what I want doesn't exist anymore…. or when I can't afford to buy new [laughs]. But paying more for less efficiency is so weird to me.
You have a Swatch sitting next to a Rolex Daytona in your watch box. Does style have a price tag?
Absolutely not. Just the ratio of quality to price. For example if a Swatch is hyped on the vintage market and suddenly costs a fortune, I don't understand it. The beauty of Swatch is its style and the perfect price for what it is. I love my Victorinox as much as my Daytona, and wear both with the same pleasure. It just depends on my schedule, my style, and who I am going to meet.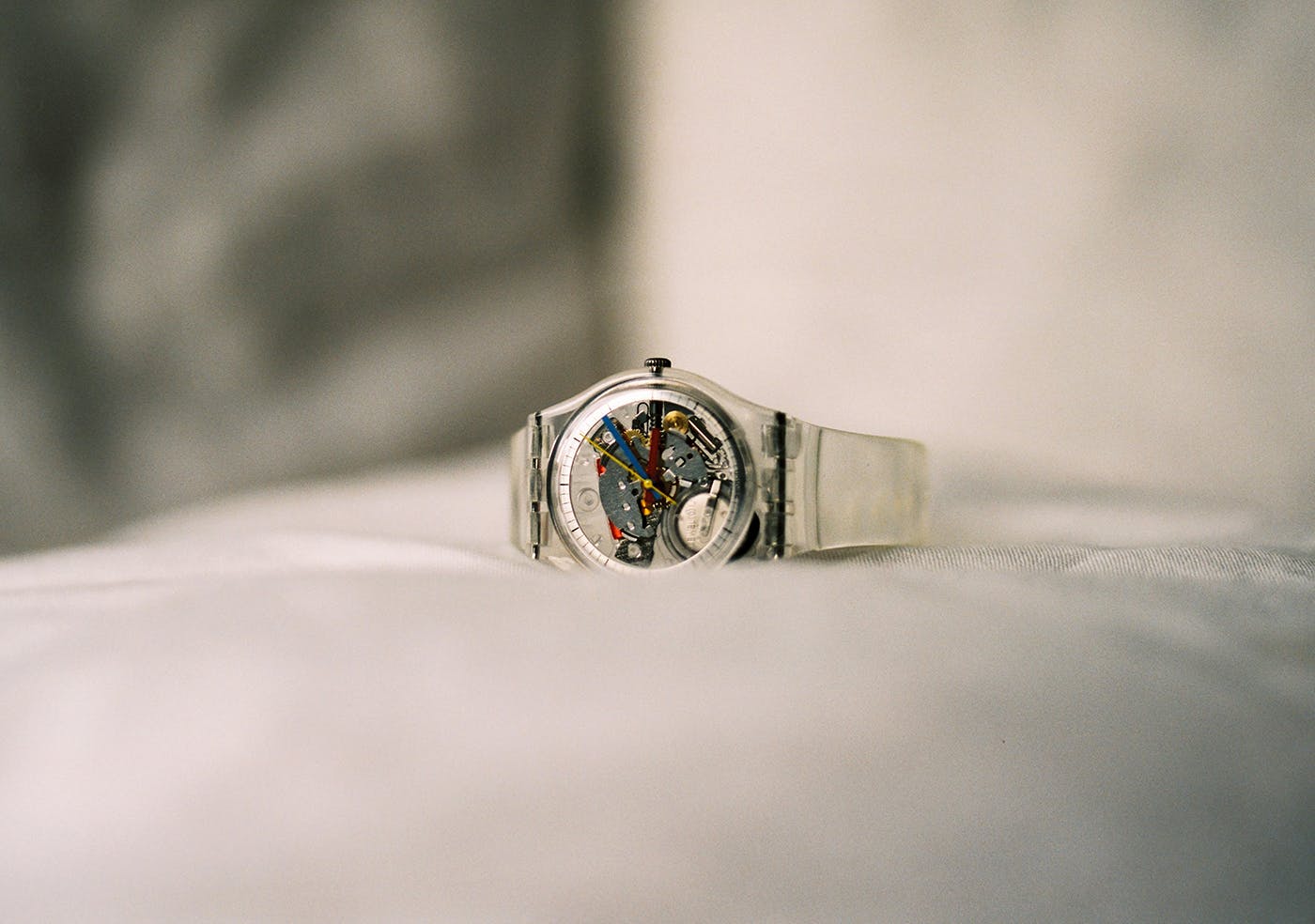 You were classically trained in music from a young age and played the double bass professionally, what was it like growing up in a musical household? How did it influence your taste in music, in style?
Classical training taught me one thing: you are bad at what you do every morning. You need to start from the bottom everyday and have a strict routine. Every day I do the same things: looking for images, checking my archive, going on this or that website to see what is going on. It doesn't feel like work, it is really my life and routine. When you are a professional musician you do your scale every morning, you stretch your finger, your muscles, all your exercises in the same order every day. I do the same with clothing.
Tell us about your obsession with Levi's 501s.
They're just so practical, the perfect fit for everyday. They're easy to wash and repair, they're all unique in terms of patina, and super easy to date when you know what details to look for. They're the perfect object to collect, always the same, but never the same.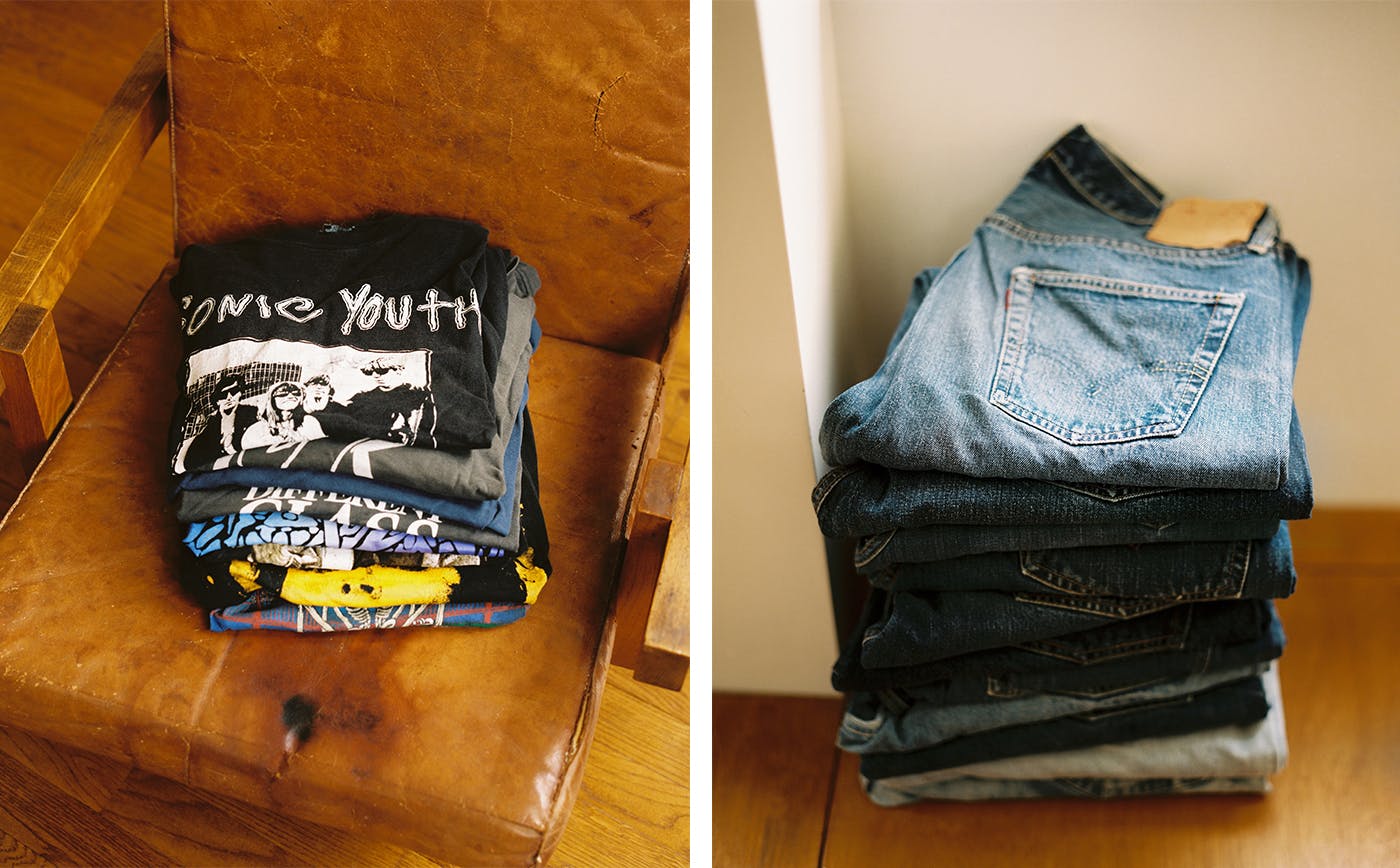 Left: 1970s Elm Wood and Leather Chair, Right: Vintage Levi's 501s
Do you have an underlying philosophy as a collector?
I just like the best, in huge quantities [laughs].
You've jumped into the world of print magazines yourself as the co-founder and fashion director of l'Etiquette. How did the publication come about? What did you want to say to the world with the magazine?
I launched it with Marc Beaugé, the two of us, supported by Franck Annese from SoPress (a big french independent press company). We wanted a magazine for us, by us. Something that said, "Whoever you are, even if you don't like clothes, it is important to know the codes as you get dressed everyday." We wanted to show the culture beyond clothes, to get famous people to talk about their connection to clothing. It was important to us to show men that clothing is not superfluous, not only for fashion guys from big cities. We want to talk to the masses and we've done that in France since issue one. It's not about, "Here is the best jacket in the world." It's more, "Here is the best jacket for you, because you live there, you work there, you are with this person and you have this budget." Just showing It's not our job to show super expensive handmade suits. We want all men to be interested in clothes (maybe just once a year), and to know what they are doing when they get dressed.
Left: Gauthier's 1970s French Wall Lamp and 1980s Italian Dog Vases, Right: Harpo Navajo watch cuff bracelet turquoise and sterling silver
More recently you've joined Fursac Paris as Creative Director. What does it take to bring a particularly French or Parisian point of view on style to the rest of the world?
I think French style is super easy to understand for the rest of the world. Like American food or Movies. We are known for our style and art de vivre, the key is to show it within the brand. That's my mission as Creative Director.
What does style mean to you?
Good manners and well made clothes worn for a long time.
Photography by: Marion Berrin
The post Collecting Together with Gauthier Borsarello appeared first on WatchBox.
This post first appeared on Watchbox |, please read the originial post: here