For over 180 years, Patek Philippe has been at the forefront of luxury watch manufacturing. Crafting exquisite women's timepieces dates back to the early days of the brand rather than being an afterthought.
A Brief History Of Ladies Patek Philippe Watchmaking
In 1839, Madame Goscinska was Patek Philippe's first client. She purchased three watches from the brand, which would have been a pendant-style watch worn on brooches or chains. These early timepieces were works of art featuring impressive enameling and gem-setting.
Queen Victoria was also a collector of Patek Philippe after discovering them at the London Universal Exhibition in 1851. Her first timepiece was a blue enamel and yellow gold pendant watch that featured rose-cut diamonds forming a bouquet. She was also given a second pendant watch with another diamond bouquet on blue enamel. This second timepiece was marked with 'Invention Brevetee' which means it had the keyless-winding system developed by Jean Adrien Philippe. Patek Philippe soon became Queen Victoria's royal watchmaker, introducing the brand to the world.
As fashions continued to evolve, eventually Patek Philippe began producing wristwatches. These designs were different from other brands as they were designed to be worn on the wrist. Their first wristwatch was sold to Countess Koscowicz of Hungary in 1868; this piece is also known as the very first Swiss wristwatch produced.
Patek Philippe continued to produce women's watches over the years, including ring watches where the dials would be hidden under a jeweled cover with a small hinge. Another first for the brand included the first grand complication for a ladies wristwatch, which was released in 1916 with a minute repeater. This was the first wristwatch from Patek Philippe to feature the complication.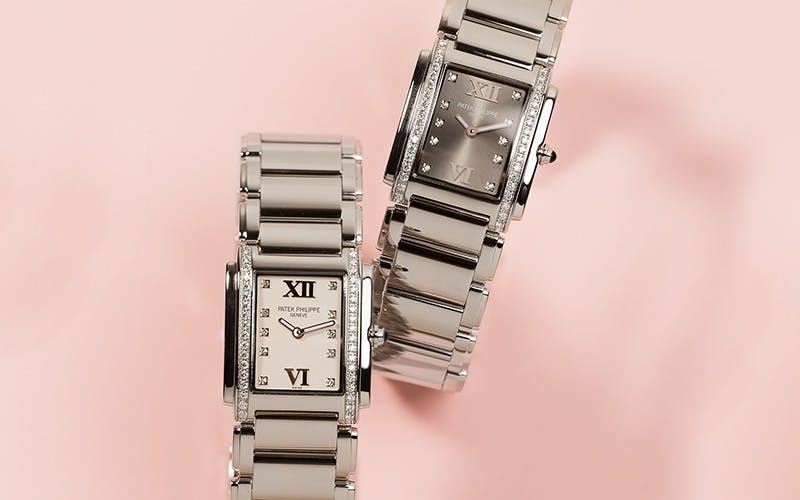 In more recent history, Patek Philippe has continued the tradition of creating beautiful and complicated women's watches. They design movements specifically for womens watches, making them thin to keep a slim case profile. In 1999, they released the Twenty~4 collection, an art deco inspired collection specifically designed for women. The first ladies chronograph was released in 2009 and featured the CH 29-535 PS movement. In 2012, Patek released their first ladies perpetual calendar, the reference 7140 with a thin 8.7mm case.
Patek Philippe has shown its commitment to designing and creating women's watches since the beginning. Discover some of the top modern ladies watches from Patek Philippe and what makes them tick.
5 Notable Patek Philippe Women's Watches
Patek Philippe creates women's watches in each of the different model families. Here are some of the top women's models from Patek Philippe, including current production and older releases.
Nautilus 7010/1G-011
Patek Philippe takes the iconic Nautilus combined with precious metals and a gem set bezel to create an equally iconic ladies watch in the reference 7010. The watch is produced in white gold or rose gold, is powered by the quartz Caliber E 23-250, and measures 32mm.
Current Secondary Market Value: $49,950
SHOP THIS WATCH
Calatrava 5108G-010
For those looking for a slightly dressier Patek Philippe, the Calatrava 5108G is an elegant automatic winding timepiece. Featuring a black dial on a black alligator strap, the 37mm white gold watch is complemented with a diamond bezel and subtle square and baguette diamond hour markers.
Current Secondary Market Value: $32,950
SHOP THIS WATCH
Gondolo 4825J
Channeling the art deco history of the model, this quartz Gondolo has a rectangular case with sharp lines. Accentuating the shape are two columns of diamonds. These diamonds also reflect back onto the dial as the diamond hour markers.
Current Secondary Market Value: $9,950
SHOP THIS WATCH
Twenty~4 7300
Taking inspiration from the ladies Gondolo model and launching in 1999, the Twenty~4 originally featured a rectangular case and quartz movement. Today, this original design is still in production, but Patek Philippe has added the reference 7300, with a round case and automatic movement. The 7300 is available in steel or rose gold, featuring an assortment of dial colors with diamond bezels.
Complications Annual Calendar 4936
Launched in 2005, the reference 4936 was the first annual calendar model for ladies produced by Patek Philippe. Today the references 4947 and 4948 are in production, but the original reference 4936 was produced in yellow gold, rose gold, and white gold, with varying mother-of-pearl dial colors and a diamond bezel.
Diamonds are often found across womens jewelry and it is no exception in Patek Philippe ladies watches. The brand has perfected developing watches for women from their launch to the present day. Unlike many brands, Patek Philippe offers women's specific watches across the spectrum, from classic quartz time-only models to the Grand Complications collection. Ready to begin your journey into Patek Philippe? Discover more:
> Everything You Need To Know About The Patek Philippe Nautilus
> The History of Patek Philippe World Timers
> Pivotal Points in the History Of Patek Philippe
The post Top Patek Philippe Women's Watches appeared first on WatchBox.
This post first appeared on Watchbox |, please read the originial post: here