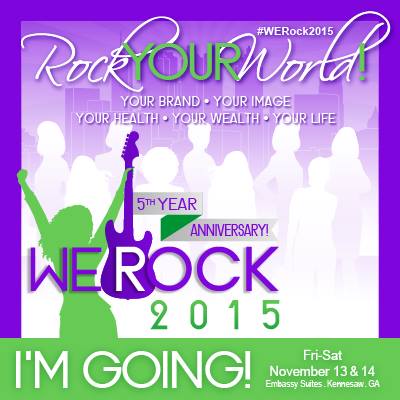 It is with great pleasure to share that I am the Master of Ceremonies at the 5th Annual Women Entrepreneurs Rock Conference 2015. This is such a huge opportunity because this conference brings together so many things that I love, primarily the concept of making your highest ideals real with steady work and faith. The Women Entrepreneurs Rock is an annual interactive conference that brings female business owners from across North America together for a day of education, empowerment and encouragement. The annual conference will be held at the Embassy Suites/Ruth Chris Steakhouse Conference Center, November 13-14, 2015 in Atlanta, Georgia and I am going to be in the thick of it all!
"We are so thrilled that Tamala is going to be the emcee for our fifth Annual Women Entrepreneurs Rock Conference," said We Rock Organizer, Edeline Francois-Dryden. "She radiates an infectious energy that animates that captivates everyone she meets. As a seasoned multi-media and marketing communications expert, she is the perfect choice for our Master of Ceremonies that will bring the excitement and breath of fresh air throughout the course of our two-day event," Edeline added.
It is an incredible honor and privilege to serve as the emcee at the Fifth annual We Rock Conference, with the support of producer Edeline Francois-Dryden and the brilliant team behind the execution of this event. We are each charged with great purpose and work to do with the time we have been given. Needless to say, we cannot make our highest ideals real alone. We Rock creates an enriched space for learning and building long-lasting connections, for it is only together that we can rise. I am humbled to be a part of this significant fifth anniversary conference.
The purpose of the We Rock is to create a space where women can address the challenges they face while growing their business. Additionally, the female entrepreneurs in attendance have the opportunity to connect with resources and assistance they need on the spot. For instance, "We have a special program for veterans that are transitioning into becoming an entrepreneur. The program highlights different areas to assist them in starting their business. Furthermore, we also provide useful tools and vital information for those that are already have established businesses, but need guidance in particular area, like marketing, or social media," said Dryden.
WE Rock is also a premier networking opportunity where many ladies have connected and returned in subsequent years to deepen the relationships initially established at the conference. For more information and to register, visit the conference's website at www.werocknational.org. Sponsors of WeRock 2015 include Xperience Connections, Atlanta Police Foundation and Sisters United, which are the conference's longest-running supporters. Additional sponsors include Volvo, PNC Bank, and Resurgence Bank.
If you are interested in attending please register at http://werock.eventbrite.com. If you are media and would like to read the official press release, feel free to download it here. Naturally, I am available for any interviews regarding this awesome conference.