Since my last entry, I have felt so amazingly euphoric. As you know, I believe heaven can be created now and it starts from within… and my insides have been so centered and grounded! It is the most DELICIOUS feeling to walk around carrying paradise in the center of your heart. Things have been busy in the most wondrous of ways and all I can do is drop to my knees to give thanks to our Creator for this gift. When I feel like this – as if heaven is dancing around in my heart – I praise God for the gift of Life!!!!! And you know what? I believe I feel so orgasmic because I am doing something I have wanted to do but was afraid to fully dive into due to my own insecurity. Fear not only paralyzes, it is a weight or a covering. Anyhoot, read on for more details/updates.
Weekly Alignment Update
September 17 – October 1
The days and weeks are simply blurring together to such an extent that I am having a hard time keeping on top of everything. I constantly find myself saying that I need to get my life together. In other words, I really need to manage my time a little better especially as God positions me where He wants me to be. I have to show I am ABLE to handle all of my BLESSINGS by rising to the occasion and sometimes, that requires effective time management. Unfortunately, my business has suffered by I am going to get it together. Why has that suffered? Well, we started shooting Curvy Girls Rock and it has been a freaking BLAST!
WHAT I LEARNED ABOUT MY CRAFT: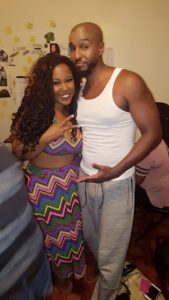 Shooting Curvy Girls Rock over the past two weeks presented me with several reminders. As someone that is transitioning to TV/Film, I learned it is important for me to MOVE and to FEEL my body when I am preparing for a scene. I know that may sound weird, but I noticed that bouncing around, walking like my character or just simply feeling where this character exists in my BODY is so helpful. It helps to get the energy moving or something and I love it. This is why when I rehearsed with my scene partner, it was so important to do it on our feet. It makes such a difference!
Also, though this is something I am very cognizant of, I saw how important it is to have a village to help you in your endeavors. We need each other so much, especially when it comes to doing GREAT things that can impact the lives of others. Nothing of true worth or value can be accomplished by a single pair of hands alone. It is so important to have a team assisting you.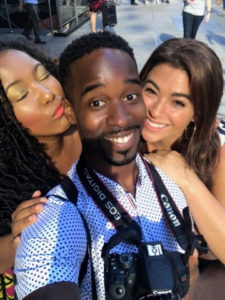 Lastly, over the course of shooting, auditioning and prepping for the next thing, I realized it is so important to MARKET!!! The creative part of any endeavor is the most enthralling, but the business side can no way be neglected. This is why I had no problem hitting the streets of Times Square to spread the word about Curvy Girls Rock with my co-stars. We conducted interviews, shot some promotional video, which will only enhance our online presence in the coming weeks. I can't wait to see how it all comes together!!
WHAT AM I CURRENTLY WORKING ON:
Last week I wasn't able to really submit for new projects so one of main goals, is to hit up the casting boards aggressively and consistently throughout the week. I LOVE to feel as if things are moving forward and stagnation brings me down energetically, so I HAVE to keep submissions and BOOK another project. Speaking of which, I booked a short film with an AWESOME up and coming writer/director. I REALLY wanted to work with her and though it is not the lead, I am so BLESSED to have this opportunity! Like, for real! When I have the green light, I will share details but know that she is the bomb.com.
THE ALIGNMENT FACTOR:

WHAT WAS MY ALIGNMENT CHALLENGE THIS WEEK:
You know what? Remaining centered and focused on God was pretty effortless the past two weeks. I stayed in the Word, prayed and meditated rather consistently, which helps me. I know many people don't believe in the power of all of that – BUT MY GOSH – when I pray and read the Bible, I feel BRAND NEW!!!!!! I need it in my life because it keeps me on HIGH! My goal is to definitely stay disciplined in this area of my life.
OH! I remember something that I struggled with! After shooting the first week, I found myself obsessing as to whether I did a great job or not. Since I don't have the material in front of me and I am NOT in control of the process, I found myself repeating the scenes from the day. It took a CONSCIOUS effort to surrender and to TRUST that I performed well. Seriously, it was a struggle. It showed me that there are still areas that I need to SURRENDER. But, I'm a work in progress.
As always, I wish you so much JOY and HAPPINESS!
Until next time,
Tammy B!
For more updates and to support this journey of the Alignment Factor, follow me on Facebook, Instagram and Twitter.