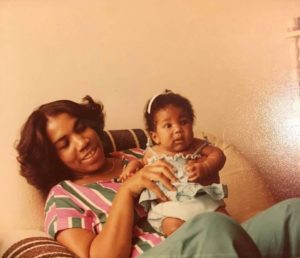 2016 was a very difficult year with the passing of my mother. The meaning of life and understanding purpose becomes so magnified when the person that loved you the most in the world is no longer here in physical form. I wondered if this meant I had to give up my dream of performing and go back to the 9-5 life. I wondered what was going to happen next. Gratefully, this fear of what was on the horizon did not Remain with me for a long time. 2017 has been pretty clear and refreshing.
I believe it felt this way because I had no choice but to believe that even though my mother was no longer physically by my side, there was still more that I had to do. This was an invitation to perhaps even go further in the pursuit of my dreams and to live with a vigor I have never known before.
2017 has been a year of firsts.
It was my first time teaching on a collegiate level.
It was my first time starting the new year without mommy.
It was my first time speaking at a top tier college.
2017 has rocked. Then, the beautiful Sidiki died.
Now, I loved this earth angel and I don't want this post to be about that moment – but what I will say, is that it was a slap in the face. Better yet, it was as if someone took a bucket of ice water and splashed it all over my face, when I least expected it.
It was a wake-up call. It was a reminder that tomorrow is not promised and that our time here is so fleeting. Sidiki lived with such PASSION and LOVE! Never in a million years did I believe this young man would not live to be an old man, with a bunch of grandkids.
The passing of Sidiki revealed much to me and one of them was to LIVE fully! We are only here for a little while, so NOW is the time to be FREE and PURSUE the things that make you feel so THRILLED to be alive!
Sidiki helped me to remember how much I love acting and connecting with people in this capacity. Now, with this awareness, I wanted to ensure I was still in the FLOW.
Being a HUMAN is definitely a walk of faith… to live the good life requires we have a mustard seed of faith. Note: the good life means a life that is rich in peace, joy, love, happiness, etc. And I want to remain there… in that sphere of trust and faith.
I was thinking of what this meant – what this way of BEING looked like and it dawned on me that my goal is to not only live with intention and faith, but to remain in ALIGNMENT!
The Beauty of Living in Alignment
When you are in alignment, you are in harmony with your highest purpose and you are co-creating with your Higher Man. When you are in alignment, life no longer feels like you are swimming upstream. Let me tell you, when I trying to explore the "safe" route, this is exactly what it felt like – like I was going against the current and I burnt out at 27.5 years old.
Since the passing of Sidiki, which was just 6 weeks ago, I have felt on fire. I have felt in alignment and so much as happened rather quickly. With all of this energy and momentum, I thought it was an opportune to start writing on this blog a little bit more. I figured that it would be FUN to share this journey of Living in alignment… as I boldly walk in purpose.
Weekly Alignment Updates Until 2018!
Recording my journey was inspired by fellow actress, Marie Burke, that has documented living in FAITH for 2017. She simply shares what happened, her why, when and how. Since she was the inspiration, I don't feel the need to reinvent the wheel too much.
Here is what I am going to do this fall and winter:
WHAT: It's a WEEKLY BLOG posted on my official site. If I am inspired, perhaps I will do the video thing, but I cannot commit to that on a weekly basis… so let's just say a blog for now.

WHY: For me, this will help me to be intentional and clear about living in alignment. As an artist, it is so easy to get swept up in the booking, the striving, that we lose our grounding. I want to ensure that I am in the flow with God and my Soul. Sharing this part of my journey will help me to remain even more mindful and aware of where I am.
WHEN: The weekends. I am more relaxed on a Saturday and Sunday. I will freely be able to share the events of the week with ease.
HOW: I totally liked this part of Marie Burke's format, so I am going to keep it. Each time I post, I will share 3 things that will be useful to my fellow artists, creative and faith-based entrepreneurs, and loved ones. There may be some overlap and that is okay. This section will cover:
What practical tips or skills did I learn in the last week?

The work I'm doing now: What am I currently working on and excited about in my craft?
The Alignment Factor: What did I learn about being in alignmemt this week?
As always, I wish you so much JOY and HAPPINESS!
Until next time,
Tammy B!