Are you a small Business owner working with multiple locations? Perhaps your business has a sales office and a headquarters, or maybe you have two or more locations servicing consumers across the country. Either way it is important for you to supply interconnected Ethernet service to your entire business.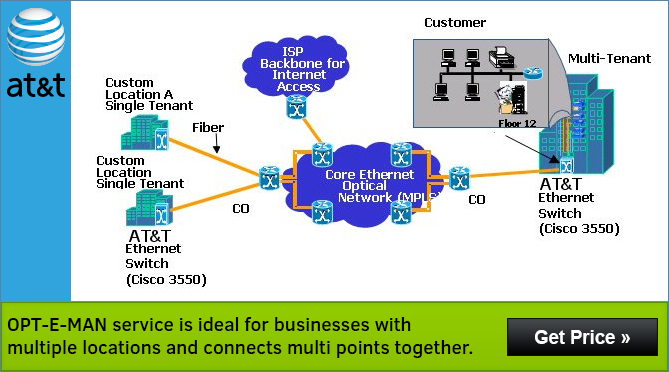 We at Connecthere.com are here to help you find the right provider and the perfect service for your business. But, before we do that it is important for us to take the time to explain to you the intricacies of the services that you are purchasing. For that reason we would love the take this article to walk you through a basic explanation of AT&T's Optical Ethernet Metro Area Network Switched Ethernet Service. This is more commonly referred to as AT&T OPT-E-MAN Switched Ethernet. OPT-E-MAN is a scalable service option that employs an MPLS Network and LAN network connections. This service is ideal for businesses with multiple location that would like to connect multi points together, connect many points all to one centralized point or connect 2 points directly together. For example a point to point connection would be ideal for a consulting firm with a west coast and east coast office. The reason for this type of connection could be to provide a real time connection for streaming video broadcasts that both offices would like to watch and interact with simultaneously. In the same vain a retail investment business with a central headquarters would perhaps like to use a spoke designed Ethernet hub. This means that the headquarters would be directly connected to each retail location while the individual retail locations are not directly connected to each other. This would increase speed and allow changes and press releases to reach all of the retail locations seamlessly, confidentially and simultaneously. Lastly, AT&T provides a multipoint design. This would be ideal for larger businesses with perhaps a headquarters, multiple sales offices, backup centers, etc.
Surely you can see how this type of service would be appropriate for many unique varieties of growing businesses. But, now that you know the different availability options out there for OPT-E-MAN you may wonder how to decide which is right for your business. Luckily, we at Connecthere.com have the answers. Our team is patient and knowledgeable. We have experienced technicians on staff that are well versed in all types of business internet options. This means that we have the ability to suggest appropriate options for your specific business needs. We will be more than happy to assess your business and your needs and provide you with a quick estimate. You can contact us or reach us directly on our website. We look forward to hearing from you and working together to resolve your telecommunication dilemmas.
Image Source : https://primeaccess.att.com/shell.cfm?section=89