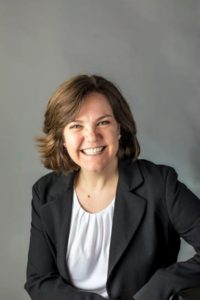 [Columbus, Ohio] – Hinson Ltd Public Relations is pleased to announce the addition of Rochelle M. Young to the team as a Senior Account Manager. Young comes to Hinson Ltd with more than 20 years of experience in project development as well as writing and producing talent. Her career spans network and local television markets, from Cleveland to New York City. Most recently, she served as Executive Producer of Special Projects at WBNS 10TV in Columbus, Ohio. Throughout her 12 years in the Columbus market, she managed major projects and community events as well as specials and brand initiatives. Young also serves as an adjunct professor at Capital University, instructing a weekly CapTV course focusing on video production, media writing and social media marketing.
After more than two decades in media production, Young brings a unique skill set to Hinson Ltd Public Relations and experiences including producing interviews with the President, traveling to Cuba to bring stories to the U.S., and booking national news guests for CBS News.
"Rochelle has an incredible breadth of experience and talent," said Lisa Hinson, President. "We are extremely excited to welcome her to the team, not only because of her professional expertise, but also because she shares our commitment to community."
As a senior account manager, Young will be involved in media coverage coordination of client events and projects as well as managing initiatives of the company within central Ohio.
"It is an absolute honor to join this outstanding team," said Young. "It was clear to me that the standard of excellence exhibited by Lisa and her team matched my drive, enthusiasm and passion for success. I am thrilled to be a part of Hinson Ltd Public Relations and represent the outstanding companies and people of this community."
Young has been awarded eight Regional Emmy Awards, the Regional Edward R. Murrow Award as well as numerous other press awards. She was recognized as the 2013 John Carroll University Young Alumni Award recipient and a 2015 Distinguished MBA Alumni Award recipient from Capital University.
Rochelle is active in the Columbus community as a Mentor for the Big Brothers Big Sisters of Central Ohio Project Mentor program. She also serves as the chair of the publicity/social media committee for The National Academy of Television Arts and Sciences – Ohio Valley Chapter and serves on the John Carroll University Columbus Alumni Board.
About Hinson Ltd Public Relations
Since 1999, Hinson Ltd Public Relations has been providing strategic counsel and program execution to leading brands in real estate development, retail and more.
###
Read Rochelle Young Appointed Senior Account Manager on Columbus Chamber of Commerce.