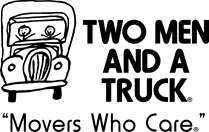 Central Ohio, January 5, 2017 — TWO MEN AND A TRUCK® Columbus spent an equivalent of $70,000 during the holidays helping nonprofits provide services to those in need including:
Coats 4 Kids: Picked up and delivered more than 1,200 new coats for children in need.
Discovery Shop: picked up donated items twice a month for the American Cancer Society.
Son Ministries: picked up donated items for families living in suburban poverty.
A Kid Again: picked up and delivered toys, gifts and decorations for the organization's annual holiday party that helps children with terminal illnesses.
Salvation Army: Loaded up toys, bicycles, blankets and coats and delivered them to the Fairfield Salvation Army Depot.
Byron Saunders Foundation: picked up items for their Thanksgiving project that provides meals to those in need.
Project Help Clothing Ministries: transported thousands of donated clothing, toys and toiletries for their Christmas giveaway which helps 10,000 families each year.
"We believe in giving back to Central Ohio and moving people forward," said Stephanie Clarey, senior sales and marketing manager. "We partner with several nonprofits throughout the year – not just during the holidays – and it's one of our favorite things to do as a company."
About TWO MEN AND A TRUCK® Columbus
TWO MEN AND A TRUCK® Columbus serves central Ohio with two locations, 33 trucks and more than 100 employees. Woman-owned since 1993, the company has decades of experience in home, business and interstate moving. In 2015, they completed 8,754 moves. They were recently named Top Moving Company through The Dispatch CBUS Top Picks. For more information, visit https://twomenandatruck.com/locations/oh/columbus or call 614.423.4842.
# # #
Read Local Company Helps Nonprofits Meet Needs During Holidays on Columbus Chamber of Commerce.