Do you have plans this weekend? Even if you do, they're not better than what we have lined up for you. Because this Saturday and Sunday, in the St. Michael's parking lot in Old Town, marks the return of the return of WingOut Chicago—Chicago's premiere chicken Wing festival. Here's just a peek into what the 7th edition of this fan-favorite has to offer.
Date and Time
October 1st and 2nd, 12pm to 8pm
Where
St. Michael's Church Parking lot in Old Town, 1633 N Cleveland Ave, Chicago, IL 60614
Who is Going to Be There?
2022's Vendor Lineup includes the who's who of wing aficionados around Chicago:
Woodie's,
Parlay at JOY,
Base Hit,
Electric Garden,
Super Pollo,
Hangry's,
Chicago's Dog House,
Tandoor Char House,
Joker's Cajun Smokehouse,
El Campeon,
Four Corners Restaurant Group,
and Rickette's (to name a few).
These vendors will be featuring unique wing flavors including Honey Habanero, Caribbean Jerk, Smoked BBQ, Garlic Buffalo, Honey Chili Crunch, Agent Orange, Chimichurri, Korean, Cheeto, Base Hit, Pineapple Express, Lemon Pepper, Tamarind, Nashville Hot, Tequila-Lime Honey Garlic, and many more.
But we're not just talking Chicago's wing slingers. We're also talking the King of the Wing, Chicago's own Sean Evans from the YouTube sensation Hot Ones. Evans, a proud Chicagoan and professor of the QuestionWing, will be in attendance for a special appearance as a celebrity just & host on Sunday! Ticket holders will have the opportunity to vote for their favorite wing, flavor, and vendor alongside him as we crown the GOAT of the Wingdy City.
On top of the delightful spread of chicken, patrons can also expect to indulge a variety of adult beverages and the very best of Chicago's live reggae, soul, and R&B music.
Here's how you can secure your ticket to get in on the action. New for 2022 there are more ways than one to WingOut. They include but are not limited to:
Additional Food Vendors with a variety of entrees & options
Expanded Festival footprint with more party space & seating
Extended Festival hours
Enhanced Production with more Live Music Performances
The Return of the Emmy-nominated host of Hot Ones, Sean Evans
Increased Patron Experience and ticketed options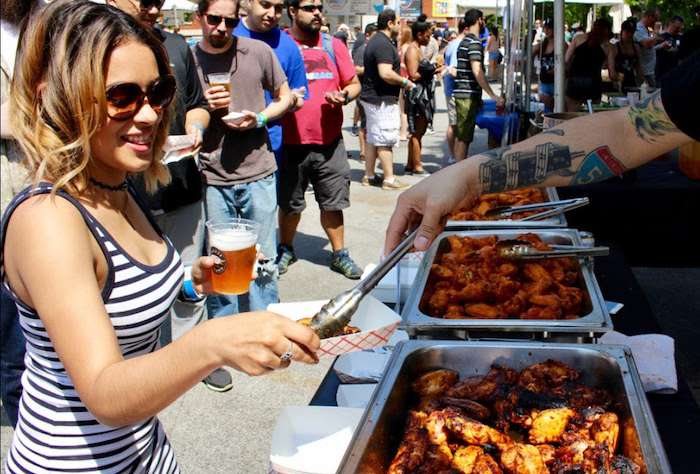 Ticketing options include:
GO VIP by guaranteeing your entry and all-you-can-eat experience! This ticketed option will be limited and follow the "traditional" format that WingOut patrons have come to know and love. VIP will kick-off the festival (daily) with more intimate festival times and unlimited wing sampling at its finest; not to mention an open beer/seltzer/soda/water drink package to wash it all down!
GO GENERAL ADMISSION by guaranteeing your entry and decide what you'd like to eat, drink, and sample there. This ticketed option will also save patrons a few dollars on your first festival drink!
GO FREE by coming out to Old Town! There will be a street festival experience waiting for all patrons to enjoy the sights, sounds, drinks and smells. Please know that all guests wishing to sample or buy food items will need to buy a ticketed package to enter the "food court" curated by the festival in the St. Michael parking lot.
Chicago is home to some of the best wings you can find, and this is truly a fan-favorite fall event that brings them all together in one place.
For more information, visit www.WingOutChicago.com.
The post Wingout Chicago Returns to Old Town for a Weekend of Wings, Music, and More! appeared first on UrbanMatter.